Breakout In "Overboughtness"
---
---
This is an abridged version of our recent reports and notes. For immediate access with no obligation, sign up for a 30-day free trial now.
Overbought breakouts
The worst environments for sentiment indicators are momentum markets. They don't happen very often, but when they do, sentiment can get stuck. It's that old trope about "extreme can get more extreme."
It doesn't happen very often, but it did in 2013 and 2017, and we saw a lot of failures in our indicators. Instead of making excuses or hiding, we've always tried to analyze the failures and see what it means. Like in February 2017, the consistent failures of a high risk level caused its Brier Score to spike.
That's why we spend quite a bit of time looking at momentum-related studies in here and the premium notes. We want to gauge the price action and underlying dynamics of the indexes and their components to see if we're seeing high-quality momentum that might overwhelm extreme sentiment.
If we look at pure price action and indicators like the Relative Strength Index (RSI), it's hard to find any faults. The Dow Industrials managed to score a multi-year high with its RSI breaking out as well.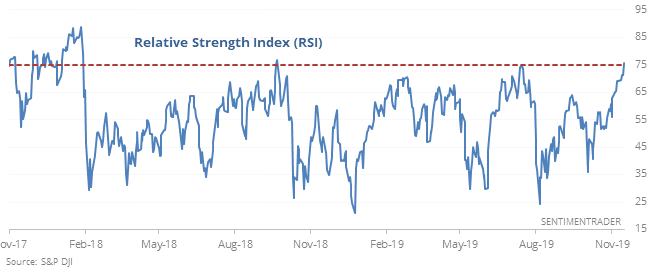 That has been only modestly positive in the shorter-term and quite a bit better long-term. If we only look for times when the Dow was at a multi-year high at the time, then it's happened only five times before now. Returns over the next few weeks were mixed in three of the cases, while two of them proceeded to rise almost without interruption. Notably, they ended up leading to two of the best momentum years in history, in 1995 and 2017.
Earnings Plateau
When we look at the S&P's returns through Friday's close, it has gone through 222 trading days in 2019. Its rolling 222-day return had recently spiked because of the trouble near the end of last year, yet its year-over-year change in operating earnings is negative.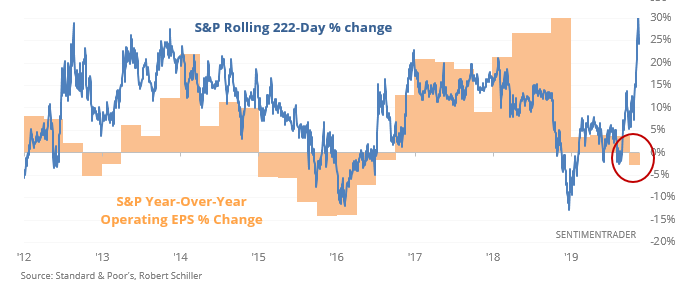 This is unusual - usually, there is a positive correlation between earnings growth and the S&P's trailing return.
It doesn't happen very often. It triggered in 2009 as stocks shot higher in the initial recovery from the financial crisis. Something similar happened in 1975, and both ended up leading to good long-term returns. Shorter-term returns were questionable, though, and that was the case with most of the others, too.
We also looked at:
Breakout in healthcare sector
Big jump in French stocks over the past ~30 days
GDPNow forecast shows a big drop
Momentum in the MSCI World index
Stocks keep rallying despite consistent negative breadth

Related Posts:
---
Tagged As:
The post titled Breakout In "Overboughtness" was originally published as on SentimenTrader.com on 2019-11-19.
At SentimenTrader.com, our service is not focused on market timing per se, but rather risk management. That may be a distinction without a difference, but it's how we approach the markets. We study signs that suggest it is time to raise or lower market exposure as a function of risk relative to probable reward. It is all about risk-adjusted expectations given existing evidence. Learn more about our service , research, models and indicators.
Follow us on Twitter for up to the minute analysis of market action.
Follow @sentimentrader