Breadth Reaches New High As Oil, Stocks Rally Together
---
---
This is an abridged version of our Daily Report.
A breakout in breadth
The Cumulative Advance/Decline Line has made a new all-time high.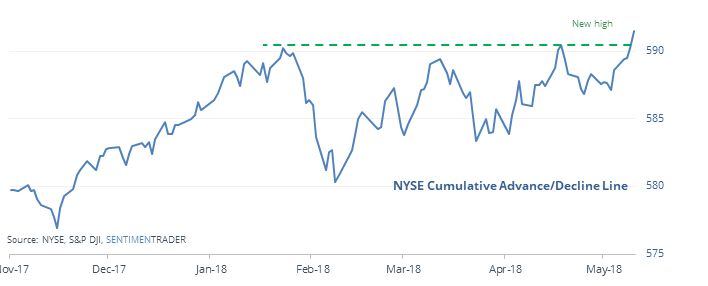 Since 1940, that has led to a smaller chance of a large decline going forward, and a smaller average drawdown. When the S&P has lagged the A/D Line like now, it has been less consistent. We're also seeing lagging breadth in the bond market.
The oil boogeyman is made of paper
Higher oil prices are usually used as a scapegoat when stocks decline. Since 2009, the relationship has been complimentary, with rising oil prices helping stocks, not hurting.

Over the 9 years, the S&P gained more than buy-and-hold, with a drastically smaller drawdown, when oil was rising.
The latest Commitments of Traders report was issued, covering positions through Tuesday
"Smart money" hedgers reduced their substantial long positions in 10-year and 30-year Treasuries, but they're still holding more than 17% of the open interest in 10-years. According to the Backtest Engine, the TLT fund has rallied 19 out of 21 times over the next two months when they've held this much of the outstanding contracts.
Driving the Dow
The Dow Industrials have rallied seven straight days and closed at a one-month high. In the past 25 years, that has happened 31 times.
F
or access to the full report, indicators, charts, screens, and Backtest Engine, log in or sign up for a free 30-day trial today.
The post titled Breadth Reaches New High As Oil, Stocks Rally Together was originally published as on SentimenTrader.com on 2018-05-14.
At SentimenTrader.com, our service is not focused on market timing per se, but rather risk management. That may be a distinction without a difference, but it's how we approach the markets. We study signs that suggest it is time to raise or lower market exposure as a function of risk relative to probable reward. It is all about risk-adjusted expectations given existing evidence. Learn more about our service , research, models and indicators.
Follow us on Twitter for up to the minute analysis of market action.
Follow @sentimentrader