Breadth Momentum Improves As Equal Weight S&P Lags
---
---
This is an abridged version of our Daily Report.
An uptick in momentum
The McClellan Oscillator has turned positive after weeks below zero.

In a bull market, that has led to good medium-term returns, especially since 1984 when it led to gains over the next 6 months 18 out of 20 times.
Don't forget the troops
An equal-weight S&P 500 index is lagging at a time when small-caps are leading.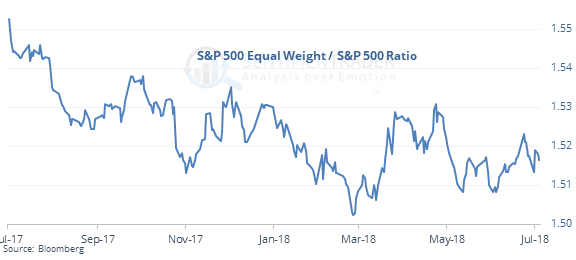 This is exceptionally unusual and has led to future outperformance for the equal-weight S&P 500 index relative to the capitalization-weighted one.
Nice move in biotech
The Nasdaq Biotech fund, IBB, gapped up more than 1% then added another 1% during the session, closing at a 100-day high. Over the funds history, it has added to the gains over the next couple of days 9 out of 13 times.
Coffee relief
On Thursday, we saw how coffee had a rarely-seen level of pessimism. On Friday, futures jumped the most in a year. Since 1980, coffee has gone from a 52-week low one day to the best gain in a year the next day 3 times.
F
or access to the full report, indicators, charts, screens, and Backtest Engine, log in or sign up for a free 30-day trial today.
The post titled Breadth Momentum Improves As Equal Weight S&P Lags was originally published as on SentimenTrader.com on 2018-07-09.
At SentimenTrader.com, our service is not focused on market timing per se, but rather risk management. That may be a distinction without a difference, but it's how we approach the markets. We study signs that suggest it is time to raise or lower market exposure as a function of risk relative to probable reward. It is all about risk-adjusted expectations given existing evidence. Learn more about our service , research, models and indicators.
Follow us on Twitter for up to the minute analysis of market action.
Follow @sentimentrader