Brazilian Stocks Are Getting Waxed
---
---
Brazil is a mess, and investors are panicking.
In recent days, selling pressure has been heavy enough and broad enough to hint at indiscriminate selling. Breadth metrics are horrid.
Per Bloomberg:
"Local assets have tumbled in recent days as President Jair Bolsonaro's administration seeks ways to boost spending ahead of next year's election and bypass fiscal rules meant to keep budgets in check."
And CNBC:
"The first problem is a slowdown in China that will likely have a knock-on effect on Brazil as one of its largest trading and export partners."
So many stocks on the Ibovespa exchange have been declining consistently that the Cumulative Advance/Decline Line has plunged to the 2nd-lowest level in 15 years.
On an average day during the past 100 sessions, 10 more stocks have declined than advanced. That's an abysmal stretch that few sectors or indexes have matched in the past 20 years. For the Ibovespa, it's the 2nd-lowest reading since 1998, barely exceeded by late October 2008.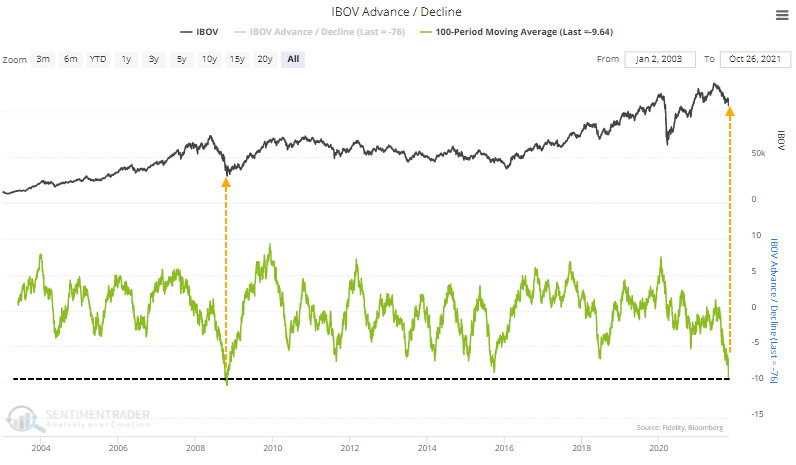 Such poor internal momentum has pushed the McClellan Summation Index for Brazilian stocks below -1000 and kept it there for most of the past few months. It's been below -975 for 56 trading days, eclipsed only by the 60 days it spent below that threshold in November 2008.
Conditions like this tend to coincide with high volatility over a multi-week to multi-month time frame. If the stocks crash further in the coming weeks or start to see signs of stabilization, long-term returns have been highly positive under similar circumstances.

---
What else we're looking at
A detailed look at breadth metrics for Brazilian stocks
Forward returns after Brazilian stock behavior looked like it does today
Another look at the S&P 500's "power period"
What happens after Transporation stocks behave as they have over the past month
---
Stat box



The RSX fund of Russian stocks is on track for its 6th consecutive weekly advance. That's tied for the 9th-longest streak since the fund's inception.
---
Etcetera
A clean break. Clean energy stocks have broken out of a recent consolidation phase, and optimism is soaring. The 10-day average Optimism Index has climbed above 78%, which preceded a slight pause at best during the rip-roaring 2020 rally. Before 2020, such high optimism preceded pullbacks nearly every time.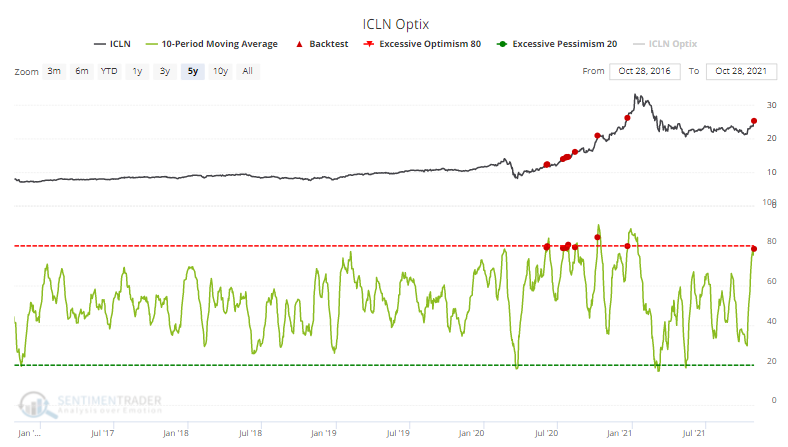 Minor miner positive. There has been a modest increase in the percentage of gold mining stocks in solid uptrends. Nearly 30% of them now have a rising 200-day moving average, but the healthiest bull markets tend to see this hold above 40%.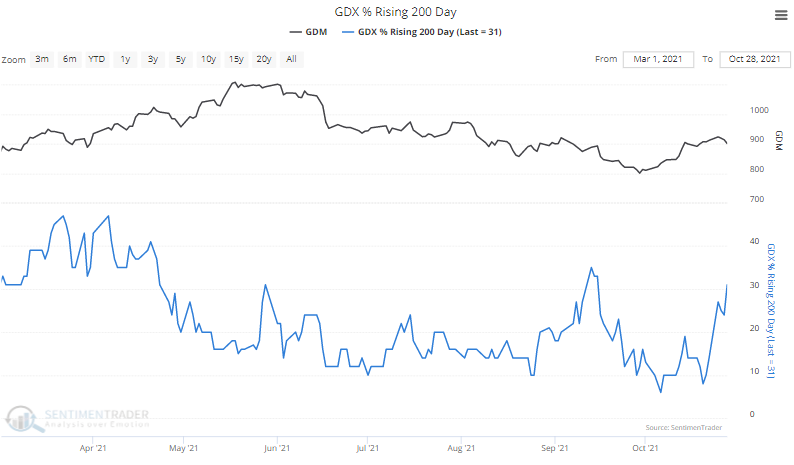 Putin on the fritz. Twitter users are looking past any strong-arm tactics. The percentage of messages with a bearish tone about the RSX fund of Russian stocks has been nearly the lowest in a year over the past 10 days.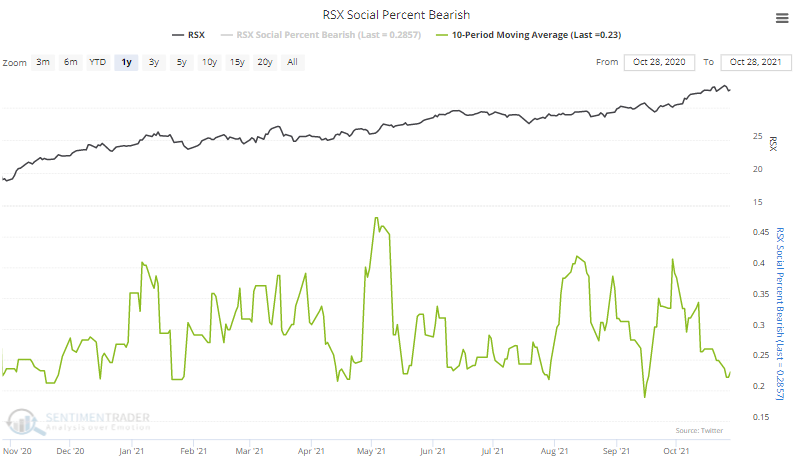 The post titled Brazilian Stocks Are Getting Waxed was originally published as on SentimenTrader.com on 2021-10-29.
At SentimenTrader.com, our service is not focused on market timing per se, but rather risk management. That may be a distinction without a difference, but it's how we approach the markets. We study signs that suggest it is time to raise or lower market exposure as a function of risk relative to probable reward. It is all about risk-adjusted expectations given existing evidence. Learn more about our service , research, models and indicators.
Follow us on Twitter for up to the minute analysis of market action.
Follow @sentimentrader