Bonds On Sale; Hedge Fund Exposure; Persistent New Lows
---
---
This is an abridged version of our Daily Report.
Bonds on sale
A popular intermediate-term corporate bond ETF was trading this week at a price (relatively) far below its underlying value.

Big discounts on liquid ETFs are rare, and often a good contrary indicator. Over its nearly 10-year history, whenever the discount on SPIB exceeded 0.2%, the fund swung to gains within a month every time, and its returns were impressive.
More to sell
Equity hedge funds are still heavily exposed to stocks. After moving to a record high in October, exposure has come down to a neutral level, but it is still well above the zone we've seen near past lows over the past decade.
Persistent losers
Securities sinking to a 52-week low have overwhelmed those rising to a 52-week high for months now. A 3-month average of new highs to new lows has dropped so far that it's now the lowest since the fall of 2008.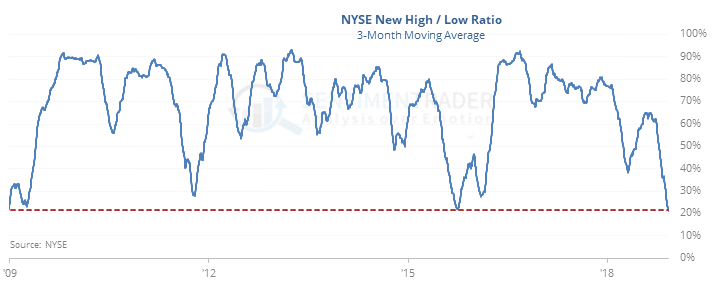 Sometimes, an indicator like this can tip us off to deteriorating market conditions that lead to poor returns, like it did in late September/early October. Other times, it can be so bad that it's good, since the selling pressure has been so heavy and persistent that selling pressure is nearly exhausted.

In this case, it's more like the latter than the former.
Ugly week
The Russell 2000 fell 2% to a new 52-week low. It has ended a week like this 10 other times.
Out of whack
The Stock/Bond Ratio moved to -2.7 on Friday.



Related Posts:
---
Tagged As:
The post titled Bonds On Sale; Hedge Fund Exposure; Persistent New Lows was originally published as on SentimenTrader.com on 2018-12-10.
At SentimenTrader.com, our service is not focused on market timing per se, but rather risk management. That may be a distinction without a difference, but it's how we approach the markets. We study signs that suggest it is time to raise or lower market exposure as a function of risk relative to probable reward. It is all about risk-adjusted expectations given existing evidence. Learn more about our service , research, models and indicators.
Follow us on Twitter for up to the minute analysis of market action.
Follow @sentimentrader