Bonds have made an extreme move
---
---
The march higher in the yield on 10-year Treasury notes took a breather on Tuesday, but it's mostly been a steady rise for most of the last 6 months. So much so that the 1-year z-score, a measure of how unusual the move is relative to recent history, just reached 1.5 standard deviations for the 4th distinct time in the past decade.
The push higher in rates has been focused mostly on the longer end of the Treasury yield curve, so the 2-year / 10-year spread has also made an extreme move.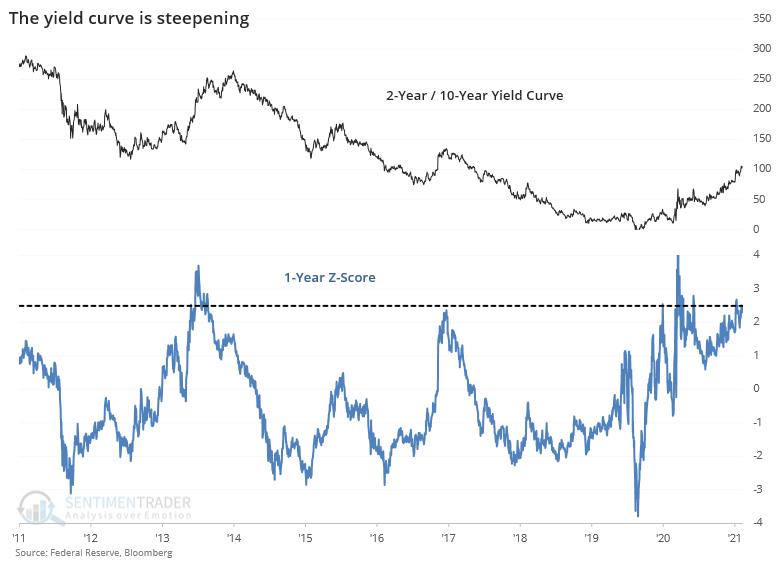 This is typically taken as a sign of economic growth and should be a positive for stocks going forward. When both the yield on 10-year notes and the yield curve were more than 1.5 deviations above trend, that mostly proved true. Over the next couple of months, there were only a couple of small losses.
What else we're looking at
Full returns since 1977 when rates and the yield curve move more than 1.5 standard deviations from average
What those signals have meant for other assets, factors, and major sectors
Across the most liquid ETFs, there has been a jump in gap up opens
An interesting wrinkle with the 20-year cycle in stocks

Stat Box



The most liquid ETF in the world, SPY, has gapped up at least 0.2% during

14

out of the last 20 sessions. That's one day shy of a record, and has been matched by only 6 other distinct times in its nearly 30 years of history.
Sentiment from other perspectives
Trading is up, volatility is down. The dip in "fear" has created a scenario where trading activity has reached a frenzied pitch. This is extremely unusual, and is completely opposite to what usually happens, with volume rising along with implied volatility. Source: Bloomberg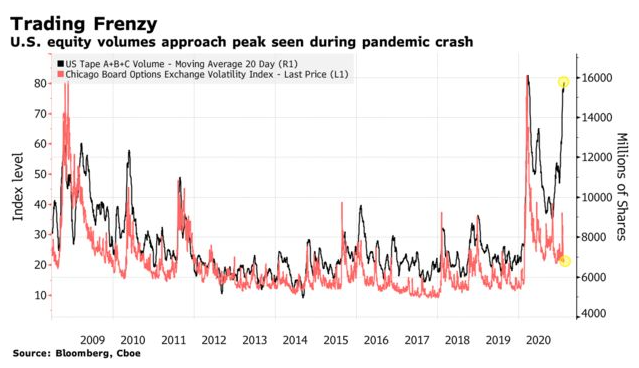 It's even more extreme. We can only see part of the volume being transacted in stocks. At this point, almost half of all volume is executed off the major exchanges, where there is no transparency whatsoever. This is a record high. Source: Wall Street Journal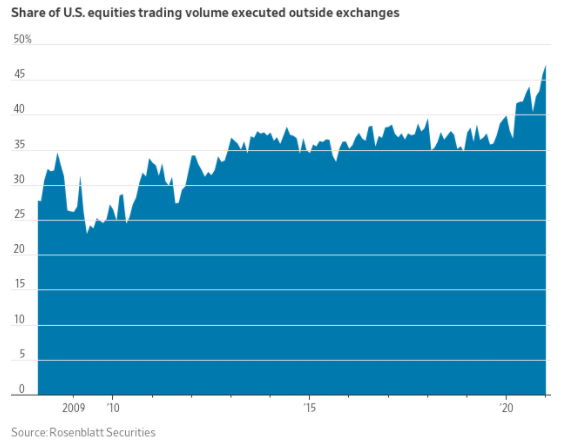 Thank you, options market. A lot of this surge in volume can be explained by trading in the options market. To a degree never before seen, that tail is wagging the dog. Source: Bloomberg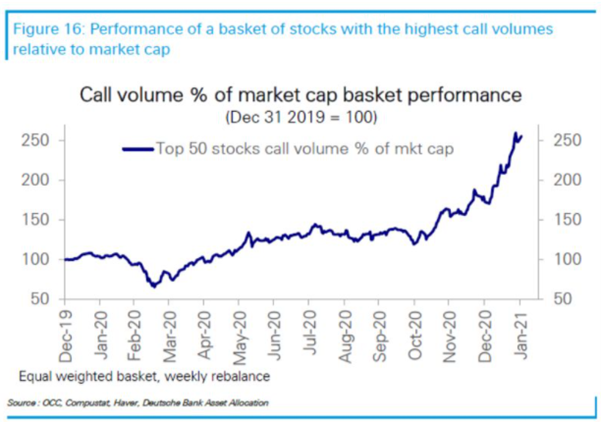 The post titled Bonds have made an extreme move was originally published as on SentimenTrader.com on 2021-02-12.
At SentimenTrader.com, our service is not focused on market timing per se, but rather risk management. That may be a distinction without a difference, but it's how we approach the markets. We study signs that suggest it is time to raise or lower market exposure as a function of risk relative to probable reward. It is all about risk-adjusted expectations given existing evidence. Learn more about our service , research, models and indicators.
Follow us on Twitter for up to the minute analysis of market action.
Follow @sentimentrader