Bonds are about the most oversold in history
There is one clear message being sent by investors in recent weeks - inflation is likely coming, so sell bonds.
U.S. Treasury notes and bonds have sold off hard lately, especially on the longer end of the curve. The price of continuous 30-year Treasury bond futures has now dropped more than 8% below it 100-day average, one of the most oversold readings since the contract's inception.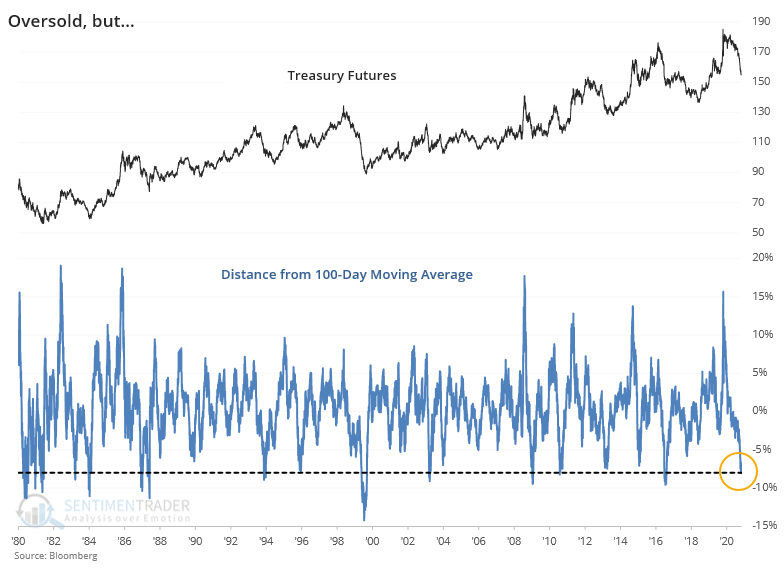 "Oversold" doesn't always mean "buy" and this seemed to be the case here.
When the contract first fell more than 8% below its 100-day average, it tended to lose even more ground over the next 2 months. The 10 prior signals did not provide a consistent signal that mean-reversion was about to rear its head.
What else we're looking at
Full returns in bonds and stocks after similar oversold signals in Treasuries
What usually happens to the dollar in the springtime
Energy stocks are showing an extremely interesting setup in the short-term vs long-term

Stat Box



Smart money commercial hedgers in the Mexican peso are now holding nearly

25%

of the open interest net long. That's the most in 4 years and ranking among the largest positions in history. Buy signals have typically been more effective once this starts to reverse.
Etcetera
Black swan taking flight. According to the SKEW index, options traders have suddenly started to price in a higher chance of an abnormally large volatility event over the next 30 days. According to the Backtest Engine, a reading above 145 has preceded a negative median return in the S&P 500 over the next 3 months.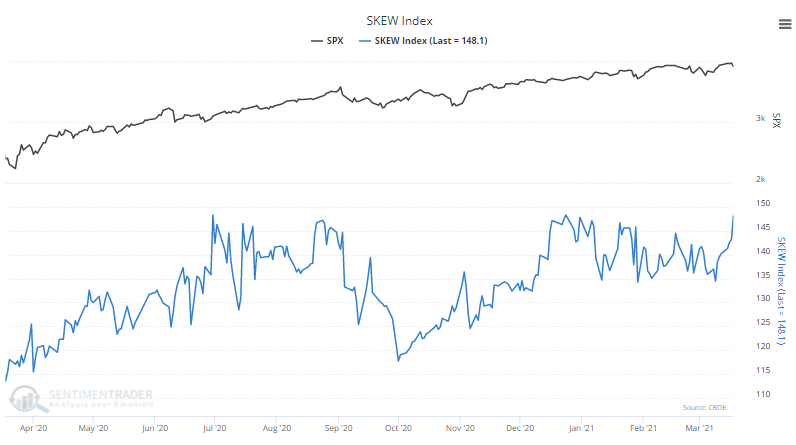 Staying off drugs. Twitter users have been pretty negative on biotech stocks lately. Over the past week, they've been tweeting about twice as many bearish messages as bullish ones on funds like IBB.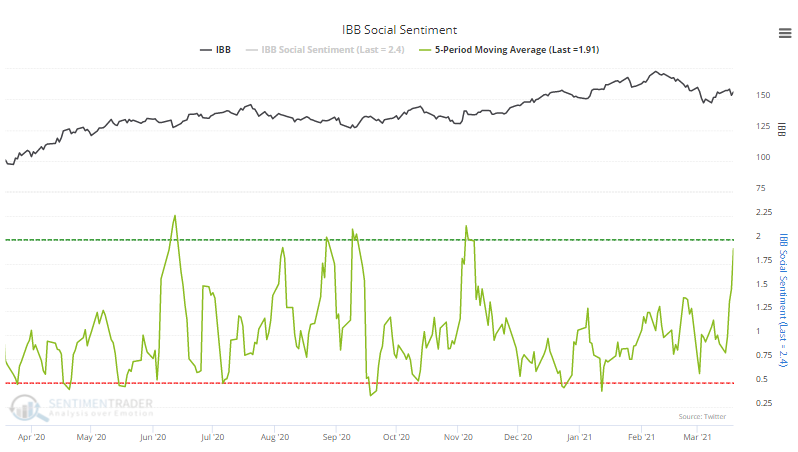 Staying away from miners, too. Over the past month, Twitter users have been especially negative on gold miners. A 20-day average of the ratio of negative to positive messages, based on our machine-learning algorithm, is nearing a 3-year high.