Bonds And Consumer Staples Are Battered As Stocks Rebound From Bad Start To Year
---
---
This is an abridged version of our Daily Report.
Bonds have been battered
A total bond market index has suffered one of its worst declines in decades since the peak last September. It has rallied during less than 1/3 of all weeks over the past 8 months, the worst stretch of selling in 40 years.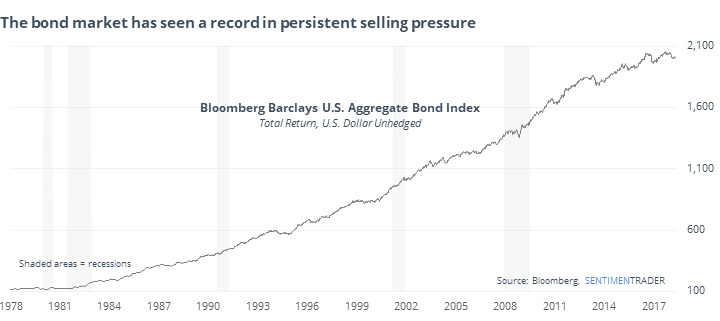 Future returns after periods of consistent selling were consistently positive.
Pressure leads to a better yield
The Consumer Staples sector is yielding the most in 7 years, not far from where it was during the financial crisis. Its members have suffered the most consistent push to new lows since the last two bear market bottoms. The loss in Staples has reached 17% in four months, among its largest, quickest declines since 1928.
Dow rebound
The Dow Industrials enjoyed one of the largest intraday reversals after flirting with a multi-month low. Future returns were mixed through the medium-term, picking up over the long-term.
Bad start, redux
Through the first 85 days of the year, stocks are showing a negative return.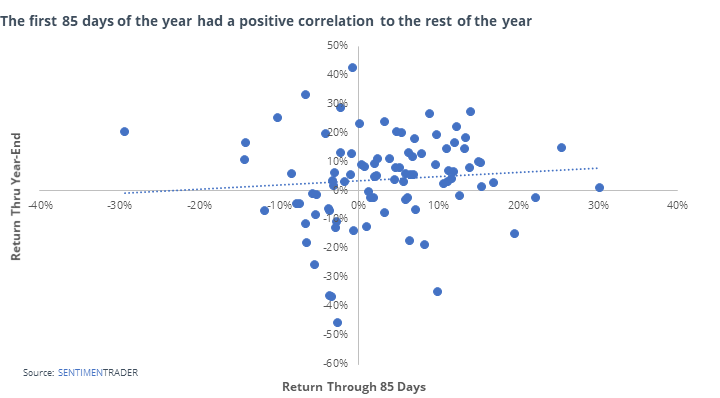 That has led to twice the chance of a large decline during the rest of the year, and half the chance of a large gain.


F
or access to the full report, indicators, charts, screens, and Backtest Engine, log in or sign up for a free 30-day trial today.
Related Posts:
---
Tagged As: