Bond Market Does The Splits
---
---
The bond market is showing split performance, and stock market momentum is impressive.
More splits than a gymnast
Different parts of the bond market are seeing vastly different treatment from investors. Riskier, lower-credit parts of the market are seeing low demand and heavy selling pressure while higher-rated bonds are being bid up to a record degree.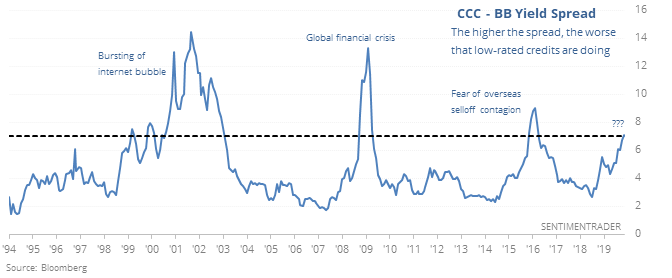 There has been this wide of a disparity only 3 other times in 25 years.
All three of them experienced issues, but on different time frames and vastly different contexts. It's hard to read much into such a small sample, but it seems to be at least a minor worry. For other assets, the havens of bonds and gold held up well, while the dollar fell.
More Momo
The stock market's momentum remains strong, which typically leads to more gains over the next 6-12 months. With the S&P 500 back near its all-time highs, its 14 weekly RSI is now at 68. Just another week's rally, and the S&P will probably become overbought for the first time since last September.
When the S&P became close to "overbought" (at least according to the popular RSI indicator) for the first time in more than a year, it typically continued to rally over the next year.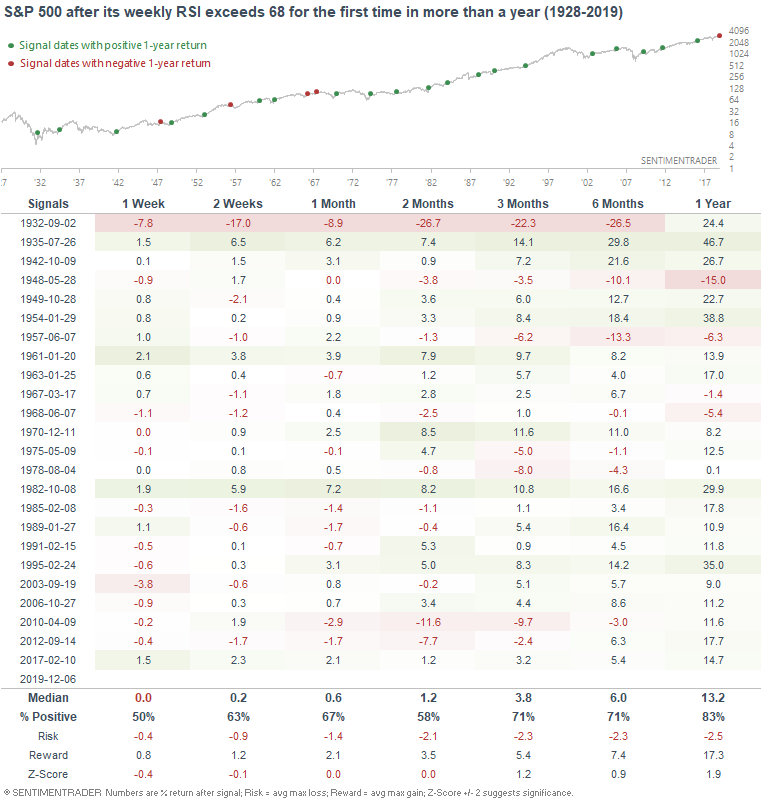 This is an abridged version of our recent reports and notes. For immediate access with no obligation, sign up for a 30-day free trial now.
We also looked at:
The VIX is low, but 1-year Put/Call skew on S&P options is high
Financial conditions continue to ease
What happens when nonfarm payrolls expand by the most in 10 months
Returns after big expansions in the Fed's balance sheet

Related Posts:
---
Tagged As:
The post titled Bond Market Does The Splits was originally published as on SentimenTrader.com on 2019-12-09.
At SentimenTrader.com, our service is not focused on market timing per se, but rather risk management. That may be a distinction without a difference, but it's how we approach the markets. We study signs that suggest it is time to raise or lower market exposure as a function of risk relative to probable reward. It is all about risk-adjusted expectations given existing evidence. Learn more about our service , research, models and indicators.
Follow us on Twitter for up to the minute analysis of market action.
Follow @sentimentrader