Bond Investors Sound The All Clear
---
---
Bond investors feeling frisky
Even the rise of geopolitical tensions hasn't dented bond investors' appetite for risk, with the HYG fund barely closing lower on Friday. The spread on credit default swaps on high yield bonds has plunged over the past few weeks, hitting a new multi-year low in the meantime.
A lower spread means rising prices and confidence from bond investors. Stock investors often assume that bond investors are their smarter cousins, and are taking this as a clue that all is clear.

Generally, "all clear" indicators have an iffy record, especially when everyone assumes the same thing. When we look at similar instances, we see that stocks were mixed in the months ahead, with diverging impacts on funds like HYG, LQD, and TLT.

A new emerging market bull
Many domestic and overseas indexes have broken out to multi-year or all-time highs. The MSCI Emerging Markets index is well off its high, but just rose more than 20% off its low, triggering what some consider to be a new bull market. This ends the longest-ever streak of emerging markets being stuck within 20% of a multi-year low.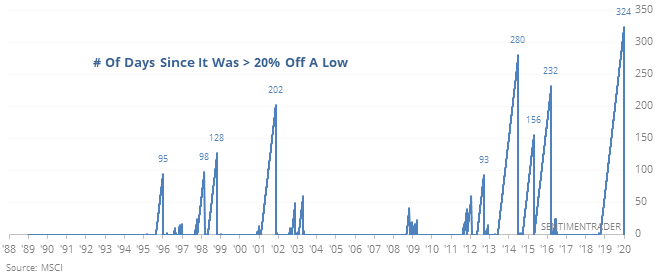 After starting other "new bull markets", emerging market stocks struggled. There was a correlation between short- and long-term returns, though, suggesting it would be a good sign if buyers continued to push ahead in the coming week(s).
This is an abridged version of our recent reports and notes. For immediate access with no obligation, sign up for a 30-day free trial now.
We also looked at:
Consumer confidence and expectations are flat to down despite a roaring stock rally
Manufacturing sentiment continues to deteriorate
New highs on the Nasdaq keep expanding
Almost all Brazilian stocks are now in uptrends
A historic number of our indicators are showing optimism
What happens when High Beta stocks outperform Low Volatility ones
A recap of our core fundamental indicators

Related Posts:
---
Tagged As:
The post titled Bond Investors Sound The All Clear was originally published as on SentimenTrader.com on 2020-01-06.
At SentimenTrader.com, our service is not focused on market timing per se, but rather risk management. That may be a distinction without a difference, but it's how we approach the markets. We study signs that suggest it is time to raise or lower market exposure as a function of risk relative to probable reward. It is all about risk-adjusted expectations given existing evidence. Learn more about our service , research, models and indicators.
Follow us on Twitter for up to the minute analysis of market action.
Follow @sentimentrader