Big stock rallies are driving the equal-weight Nasdaq 100 to new relative lows
---
---
The major indexes continue to be driven by big stocks. That's not a new insight, but it's also not changing.
Yet again this week, the Nasdaq 100 (NDX) has hit new highs. The NDX is a modified capitalization-weighted index, so the largest stocks can drive returns in the index, up to a point.
While it doesn't have much history, there is also a version of the NDX that weights each of the stocks equally. While the NDX we all watch has been hitting new highs, the equal-weight version of the index has been doing okay, too. It's just not doing as well, and it has declined to a new low relative to the cap-weighted version.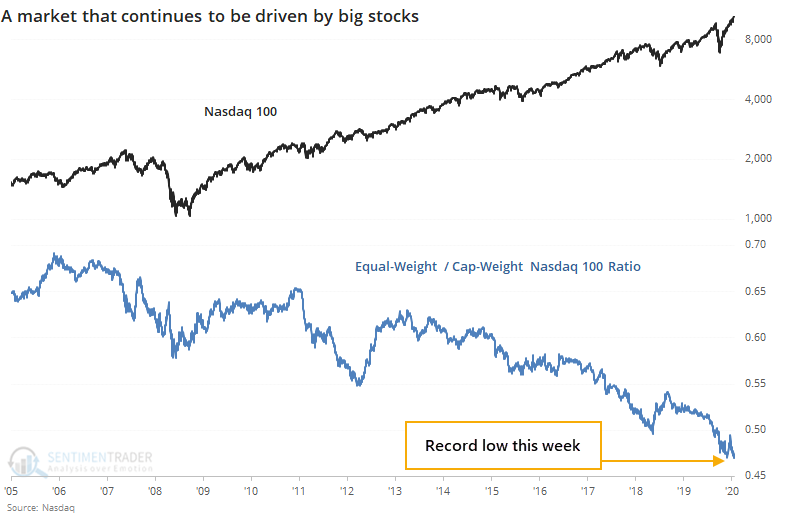 For the main NDX, this has been a mixed sign. Same for the broader market. The rise of big stocks has been almost incessant over the past 15 years, so the ratio of the equal-weight to cap-weight index never really had much of a consistent chance to outperform even after big divergences like this.
This is an abridged version of our recent reports and notes. For immediate access with no obligation, sign up for a 30-day free trial now.
We also looked at:
A more in-depth look at index performance after big divergences in equal-weight indexes
Stocks have rallied strongly over the past 3 months, but the synthetic VIX remains high - what that's meant since 1962
The RSI on Chinese stocks is the highest in 6 years
The Shanghai Composite has rallied 7 days in a row
Speculative volume has been pouring into Chinese stocks
The McClellan Oscillator for the Shanghai is nearly at a record high
The Nasdaq has rallied more than 1% on many days over the past 5 months

The post titled Big stock rallies are driving the equal-weight Nasdaq 100 to new relative lows was originally published as on SentimenTrader.com on 2020-07-09.
At SentimenTrader.com, our service is not focused on market timing per se, but rather risk management. That may be a distinction without a difference, but it's how we approach the markets. We study signs that suggest it is time to raise or lower market exposure as a function of risk relative to probable reward. It is all about risk-adjusted expectations given existing evidence. Learn more about our service , research, models and indicators.
Follow us on Twitter for up to the minute analysis of market action.
Follow @sentimentrader