Big Rally In Small Stocks, With Smart Money Buying
---
---
Small stocks, big rally
Small-cap stocks have rallied 24% in only two months, ranking among the best rallies since 1926.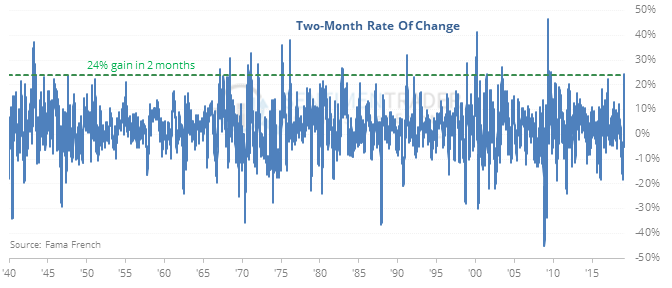 Other times they jumped to this degree, small stocks tended to rise in the months ahead, but there were some failures. The overall bias was positive, especially in terms of risk vs reward. Consistency was good, but average returns weren't too far above random. In non-recessionary periods, the returns understandably improved.
Still smart?
Hedgers have continued to buy index futures, and that has been a very good sign since 2009. Prior to then, it wasn't such a clear buy signal, with some failures as different market environments caused these traders to behave differently.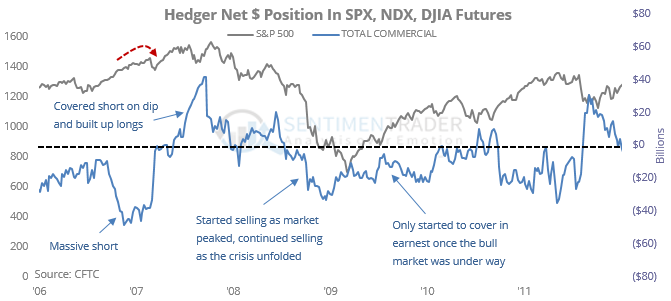 These positions gave perhaps their least useful signals during the financial crisis.
Too healthy
The McClellan Oscillator for the Health Care sector has finally edged below zero. That's the first time in more than 30 days that it was below zero, ending one of the longest streaks of positive breadth momentum in nearly 30 years.
Thank you, next
The last day of February has been a pain for stocks. SPY has managed to gain only 35% of the time since 1993. The worst out of all ETFs we follow are SMH (11% win rate), IBB (22% win rate), XHB (23% win rate) and QQQ (26% win rate). Bonds were the best, including LQD (75% win rate). Most of these reversed during the first few days of March.
Industrious
In Tuesday's report, we saw that the rally is being led by Industrials. Now 100% of those stocks are trading above their 50-day averages. Per the Backtest Engine, that has led to further gains in the XLI fund only 29% of the time over the next two months.
This post was an abridged version of our previous day's Daily Report. For full access, sign up for a 30-day free trial now.

Related Posts:
---
Tagged As:
The post titled Big Rally In Small Stocks, With Smart Money Buying was originally published as on SentimenTrader.com on 2019-02-28.
At SentimenTrader.com, our service is not focused on market timing per se, but rather risk management. That may be a distinction without a difference, but it's how we approach the markets. We study signs that suggest it is time to raise or lower market exposure as a function of risk relative to probable reward. It is all about risk-adjusted expectations given existing evidence. Learn more about our service , research, models and indicators.
Follow us on Twitter for up to the minute analysis of market action.
Follow @sentimentrader