Big Money Has Never Been More Bearish
---
---
This is an abridged version of our recent reports and notes. For immediate access with no obligation, sign up for a 30-day free trial now.
Big Money Bears
For the first time in 20 years, the big money is betting against stocks. The latest semi-annual survey of big money managers by Barron's showed a Bull Ratio below 50% for the first time ever, far surpassing the previous all-time pessimistic reading in October 2002.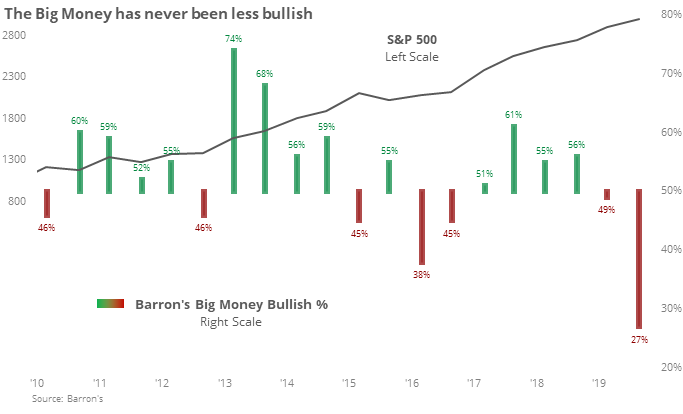 Their history as a group is mixed, with a modest tendency toward being a contrary indicator when they're suffering from groupthink like this.
A year later the S&P showed a positive return all but twice, with one of those losses being negligible (if we used total return, that would have been positive). Ultimately, the poor sentiment did lead to spectacular losses during the last two protracted bear markets, but it took a long time to unfold after the survey's release.
% of stocks in a correction
Last week, we looked at the decrease in S&P 500 stocks that were in a bear market. Similarly, the % of S&P 500 stocks in a correction (at least 10% below a 52 week high) is also declining: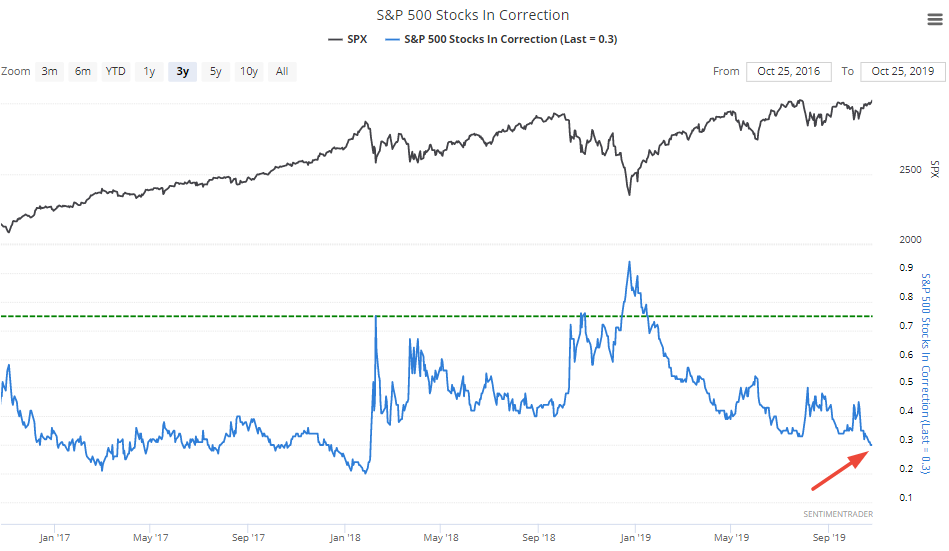 When this figure fell to 30% for the first time in more than 100 days, the S&P rallied over the next 6-12 months.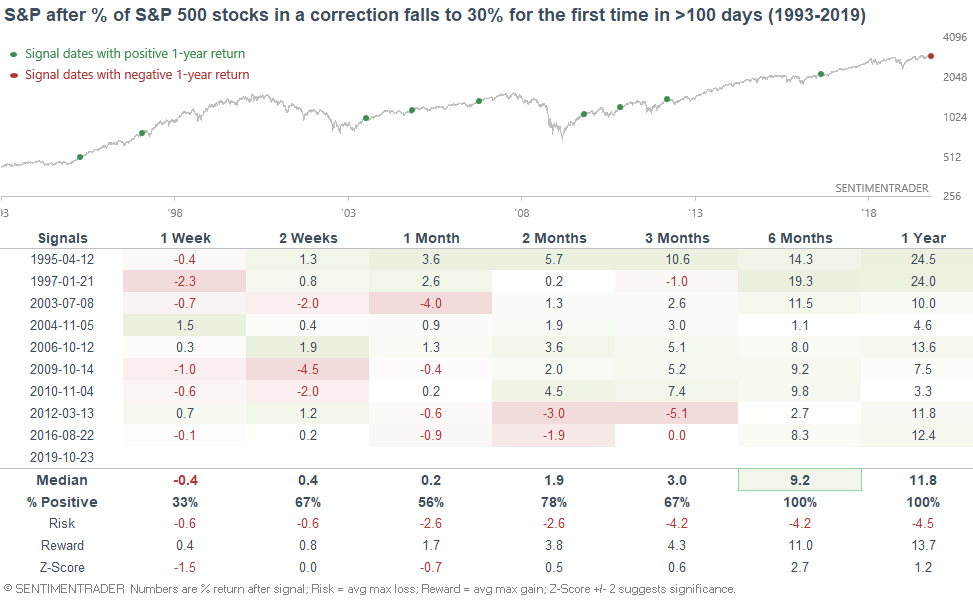 Related Posts:
---
Tagged As:
The post titled Big Money Has Never Been More Bearish was originally published as on SentimenTrader.com on 2019-10-29.
At SentimenTrader.com, our service is not focused on market timing per se, but rather risk management. That may be a distinction without a difference, but it's how we approach the markets. We study signs that suggest it is time to raise or lower market exposure as a function of risk relative to probable reward. It is all about risk-adjusted expectations given existing evidence. Learn more about our service , research, models and indicators.
Follow us on Twitter for up to the minute analysis of market action.
Follow @sentimentrader