Best Recovery Ever As Investors Flee Bonds
---
---
This is an abridged version of our Daily Report.
Best recovery ever
After falling into a correction a week ago, the Dow Industrials index has rallied every day and added 5.6%. That ranks among its best-ever recoveries after falling more than 10% below its high for the first time in months.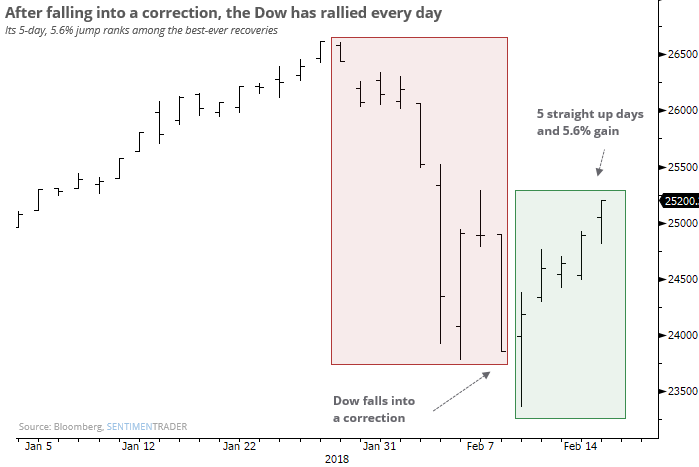 Other good correction recoveries led to medium-term follow-through.
Bond carnage
Over the past two weeks, an average of almost 2 out of every 3 investment-grade bonds have declined each day. That's among the worst stretches in 13 years, barely above the worst-ever reading.

Investors have taken note by yanking 8% of assets from LQD, its worst two-week decline in assets ever.
Factors following fear fall
Fear has been cut in half, which has not necessarily been a good sign for the broad stock indexes. Among factors, small-cap growth stocks fared best.
4 out of 5
The S&P 500 has jumped more than 1% on 4 out of 5 sessions following a 50-day low.
Volume surge
A 5-day average of the NYSE Up Volume Ratio has gone from an extremely oversold level (below 30%) to an extremely overbought one (above 70%) within two weeks. That has happened 28 times since 1962.
For access to the full report, indicators, charts, screens, and Backtest Engine, log in or sign up for a free 30-day trial today.
Related Posts:
---
Tagged As:
The post titled Best Recovery Ever As Investors Flee Bonds was originally published as on SentimenTrader.com on 2018-02-16.
At SentimenTrader.com, our service is not focused on market timing per se, but rather risk management. That may be a distinction without a difference, but it's how we approach the markets. We study signs that suggest it is time to raise or lower market exposure as a function of risk relative to probable reward. It is all about risk-adjusted expectations given existing evidence. Learn more about our service , research, models and indicators.
Follow us on Twitter for up to the minute analysis of market action.
Follow @sentimentrader