Bear Market Roadmap; Pessimistic CFOs
---
---
This is an abridged version of our Daily Report.
Bear market roadmap
There have been 20 bear markets in U.S. stocks since 1950. If we look at their average price path during the next year, the S&P's performance since September shows a high correlation to 10 of them.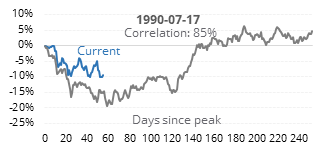 After those 10 bear markets were this far into their decline, they usually moderate their declines for a few months.
CFOs are pessimistic
A survey of 500 corporate CFOs shows that during the recent quarter, they have become the least optimistic on the U.S. economy's prospects in 7 years. They were pessimistic heading into the financial crisis, a point in their favor, but had a couple of dud calls as well.

Mom & pop are, too
The latest survey from the American Association of Individual Investors showed a bit drop in optimism. The Bull Ratio dropped to 30%, the lowest since February 2016. According to the Backtest Engine, a reading this extreme led to a positive return in the S&P 500 three months later 88% of the time, averaging 5.9%.
Bank blahs
Several of the largest banks in the U.S. are down at least 7 days in a row and trading at 52-week lows. For the 2nd largest bank, BAC, it's the first time since 2011. It's happened 6 times in 25 years, leading to rebounds three weeks later 4 times, but the two losses were massive.



Related Posts:
---
Tagged As:
The post titled Bear Market Roadmap; Pessimistic CFOs was originally published as on SentimenTrader.com on 2018-12-14.
At SentimenTrader.com, our service is not focused on market timing per se, but rather risk management. That may be a distinction without a difference, but it's how we approach the markets. We study signs that suggest it is time to raise or lower market exposure as a function of risk relative to probable reward. It is all about risk-adjusted expectations given existing evidence. Learn more about our service , research, models and indicators.
Follow us on Twitter for up to the minute analysis of market action.
Follow @sentimentrader