Bear Market In Stocks; Small-Cap Stumbles
---
---
This is an abridged version of our Daily Report.
A bear market in stocks
While the major indexes are far from a 20% decline, many S&P 500 components have declined more. At the depths of the decline in October, more than 40% of the S&P reached bear market territory.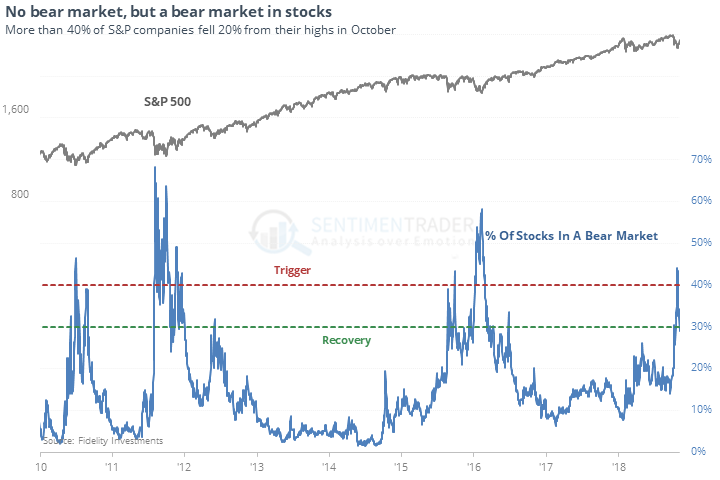 That often served as a low point historically, but with false signals in 2001 and 2008. The biggest problem was multiple false signals in 2001, when there was a spike of more than 40% of companies falling into bear markets, then a recovery back below 30%. Soon after that, though, the S&P topped out and headed to new lows.

The only way to avoid those was to wait for an even more stringent recovery. Waiting until fewer than 15% of stocks were in a bear market was helpful.
Small-cap stumbles
One of the longest streaks in the history of the Russell 2000 is on the verge of ending. Its 50-day average is close to cross below its 200-day for the first time in more than 600 sessions.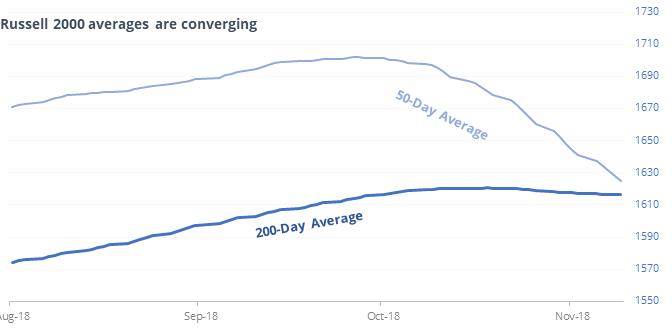 The ends of other long streaks preceded some tough markets, especially shorter-term.
The latest Commitments of Traders report was released, covering positions through Tuesday
The 3-Year Min/Max Screen shows that "smart money" hedgers added to their already-extreme long position in orange juice but there were no new extremes of note.
Soaring Staples
The 10-day Optimism Index of the Consumer Staples XLP fund is at 77. There have been 34 days in its history with this high of a reading.


Related Posts:
---
Tagged As:
The post titled Bear Market In Stocks; Small-Cap Stumbles was originally published as on SentimenTrader.com on 2018-11-12.
At SentimenTrader.com, our service is not focused on market timing per se, but rather risk management. That may be a distinction without a difference, but it's how we approach the markets. We study signs that suggest it is time to raise or lower market exposure as a function of risk relative to probable reward. It is all about risk-adjusted expectations given existing evidence. Learn more about our service , research, models and indicators.
Follow us on Twitter for up to the minute analysis of market action.
Follow @sentimentrader