Bad Eurozone Surprises As Crude, Dollar Rally
---
---
This is an abridged version of our Daily Report.
The euro doesn't like negative surprises
Recent months have seen the worst economic results relative to expectations in the eurozone since 2011. Only three other periods in 15 years have seen results as bad as this. All three led to weakness in the euro over the next several months, with gold and stocks also wobbly.
A crude correlation
Crude oil has a tight negative correlation to the U.S. dollar, but over the past month, both have moved higher.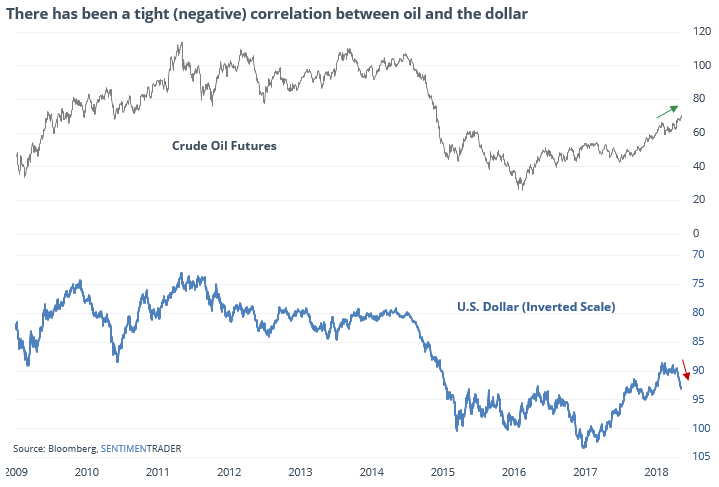 On Monday, oil hit a multi-year high while the dollar hit a multi-month high. Over the past 30 years, that has led to a negative return in oil over the next 1-2 months.
Most-hated currency
Sentiment on the Swiss franc has been dropping quickly and its Optimism Index finally dropped below 20. Over the past five years, it has gotten this low four other distinct times.
No Bueno
According to the Geo-Map, Argentina has overtaken Mexico as the most-hated country. The Optimism Index on the AGT fund fell to a lowly 2, the worst since 2015. According to the Backtest Engine, such a low reading has led to a bounce over the next two days.


F
or access to the full report, indicators, charts, screens, and Backtest Engine, log in or sign up for a free 30-day trial today.
The post titled Bad Eurozone Surprises As Crude, Dollar Rally was originally published as on SentimenTrader.com on 2018-05-09.
At SentimenTrader.com, our service is not focused on market timing per se, but rather risk management. That may be a distinction without a difference, but it's how we approach the markets. We study signs that suggest it is time to raise or lower market exposure as a function of risk relative to probable reward. It is all about risk-adjusted expectations given existing evidence. Learn more about our service , research, models and indicators.
Follow us on Twitter for up to the minute analysis of market action.
Follow @sentimentrader