As Good As It Gets For Trend Followers
---
---
High return, no risk
Over the past three months, the S&P 500 has sported a good gain. More impressively, it has come with almost no risk, as the standard deviation of its daily returns has been exceptionally small. Its return was more than 25 times its standard deviation, making the past few months among the best-ever for trend-followers.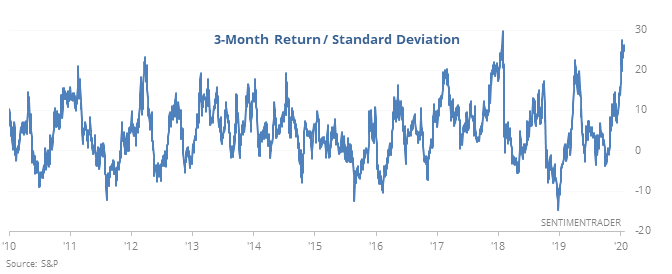 Going back to 1928, there have been few times stocks hit new highs with such a calm and positive three months. Creeper uptrends like this can run over bouts of extreme optimism for weeks or even months at a time, but at some point, those shorter-term gains are almost always wiped away during a subsequent pullback. It might take a while, but it usually happens.
Defense plays offense
What makes this juncture more difficult than most is that it's not clear-cut. There are some oddball developments that don't fit with what we typically see during times of extreme speculation. One of those is the continued buying interest in defensive sectors.
Sector breadth stats show that utilities, staples, and health care have recently seen a tremendous spike in the percentage of stocks that are not only hitting new highs, but doing so with gusto, jumping outside of their volatility bands and becoming overbought at the same time.

After other periods like this, utilities showed a negative return every time at some point between 1 and 3 months later, with extremely high risk relative to reward. A sector like technology is better able to handle speculative activity, or at least extremely eager buying pressure, than a sector like utes.
This is an abridged version of our recent reports and notes. For immediate access with no obligation, sign up for a 30-day free trial now.
We also looked at:
What happens when the Nasdaq is at a high then Intel gaps up on earnings
Active investment managers are the most bullish in 14 years

Related Posts:
---
Tagged As:
The post titled As Good As It Gets For Trend Followers was originally published as on SentimenTrader.com on 2020-01-24.
At SentimenTrader.com, our service is not focused on market timing per se, but rather risk management. That may be a distinction without a difference, but it's how we approach the markets. We study signs that suggest it is time to raise or lower market exposure as a function of risk relative to probable reward. It is all about risk-adjusted expectations given existing evidence. Learn more about our service , research, models and indicators.
Follow us on Twitter for up to the minute analysis of market action.
Follow @sentimentrader