Another Volatile Session
---
---
This is an abridged version of our Daily Report.
Another volatile session
Some early optimism on Thursday was quickly erased, and stocks dove to new lows for this move. In the process, it triggered several extremes:
* The Nasdaq is on the threshold of a 20% decline.
* The percentage of securities falling to a 52-week low on the NYSE and Nasdaq spiked to the most since 1987 and 2008.
* The S&P 500 has dropped at least 1.5% to a new low on 3 out of the past 4 sessions, the first time since 2008 .
* The AIM Model this week is going to be 0%, which the Backtest Engine shows has happened only twice since the model became less noisy in the late 1980s. Those two weeks were September 4, 1998, and October 7, 2011. The S&P rallied more than 8% over the next 1-2 months after those dates, for what that's worth.
* Smart Money / Dumb Money Confidence has been high for two months now.

* This is triggering the most eager put buying on index ETFs since March 10, 2009.
* The combination of readings has triggered a jump in the percentage of indicators showing pessimism and pushed the Risk Level to 1.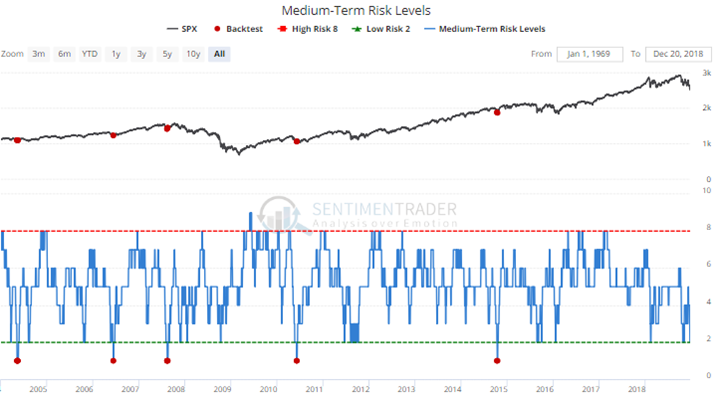 Related Posts:
---
Tagged As:
The post titled Another Volatile Session was originally published as on SentimenTrader.com on 2018-12-21.
At SentimenTrader.com, our service is not focused on market timing per se, but rather risk management. That may be a distinction without a difference, but it's how we approach the markets. We study signs that suggest it is time to raise or lower market exposure as a function of risk relative to probable reward. It is all about risk-adjusted expectations given existing evidence. Learn more about our service , research, models and indicators.
Follow us on Twitter for up to the minute analysis of market action.
Follow @sentimentrader