An Important Shanghai Rally Amid Terrible Economic Surprises
---
---
An important threshold
When big rallies in the Shanghai Composite failed, fewer than 90% of stocks on the exchange had managed to rise above their 200-day averages. When more than 90% did so, the rallies lasted long-term, at least over the past 17 years. That just happened again.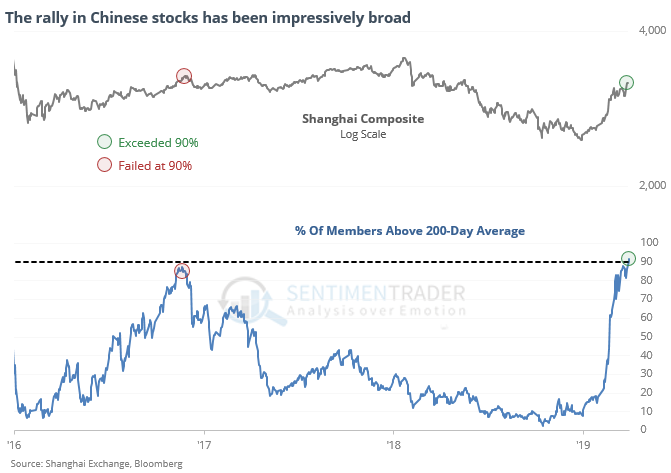 It's also been a good sign when the Shanghai Composite rallies at least 30% off its low, especially when it's able to hold its gains over the next couple of weeks.
Optimistic economists
Economists in the U.S. have been too positive about our prospects. Over the past couple of months, economic reports have come in below expectations, to a worsening degree. The Citi Economic Surprise Index just hit "terrible" levels for the first time in years.

The ends of similar streaks have been bad for the dollar and good for the assets that tend to rise when it falls.
Gravity
The S&P 500 fund, SPY, gapped up and closed at a new 100-day high but well below its open. Of the 14 other times that's happened, it added to gains over the next four sessions 4 times.
Burst bonds
On March 27 we saw that optimism on bond funds like BND was extremely high, and the Backtest Engine suggested a high likelihood of weak returns over the next week. Now that it has pulled back, the Optimism Index on BND is below 35. Other times it cycled like this, it rebounded the next day all 8 times but was mixed after that, with gains 3 times and losses 5 times two weeks later.
This post was an abridged version of our previous day's Daily Report. For full access, sign up for a 30-day free trial now.

Related Posts:
---
Tagged As:
The post titled An Important Shanghai Rally Amid Terrible Economic Surprises was originally published as on SentimenTrader.com on 2019-04-04.
At SentimenTrader.com, our service is not focused on market timing per se, but rather risk management. That may be a distinction without a difference, but it's how we approach the markets. We study signs that suggest it is time to raise or lower market exposure as a function of risk relative to probable reward. It is all about risk-adjusted expectations given existing evidence. Learn more about our service , research, models and indicators.
Follow us on Twitter for up to the minute analysis of market action.
Follow @sentimentrader