An August High As Option Speculation Ramps Up
---
---
This is an abridged version of our Daily Report.
Summer high
Stocks ended August at their highest monthly close in at least 36 months. A new high in August has preceded poor returns during the next 1-4 weeks as September lived up to its reputation. The S&P struggled to hold its gains, especially during the past 30 years.
A speculative week
Last week, options traders focused heavily on bullish strategies. The ratio of bullish to bearish ones was one of the highest in more than 5 years, as both small and large options traders spent a large part of their volume buying call options.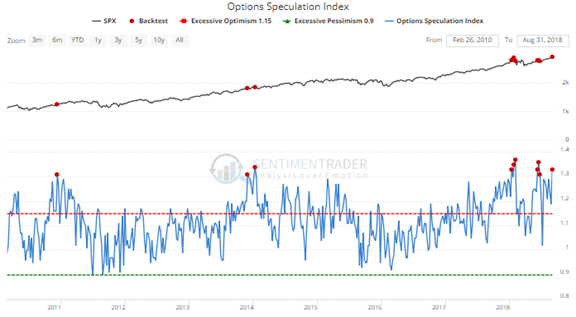 Not quite panic
Gold mining stocks suffered yet another large loss and a 52-week low. That's 6 such losses in 20 sessions, among the largest selling clusters in 25 years.
New loser
The battle for most-hated commodity seems to keep alternating between coffee and one of the grains. The record pessimism toward the former has eased a bit, leaving soybeans holding the current title for most-hated.
F
or access to the full report, indicators, charts, screens, and Backtest Engine, log in or sign up for a free 30-day trial today.
Related Posts:
---
Tagged As:
The post titled An August High As Option Speculation Ramps Up was originally published as on SentimenTrader.com on 2018-09-05.
At SentimenTrader.com, our service is not focused on market timing per se, but rather risk management. That may be a distinction without a difference, but it's how we approach the markets. We study signs that suggest it is time to raise or lower market exposure as a function of risk relative to probable reward. It is all about risk-adjusted expectations given existing evidence. Learn more about our service , research, models and indicators.
Follow us on Twitter for up to the minute analysis of market action.
Follow @sentimentrader