An Almost-Thrust; Bond Boondoggle
---
---
This is an abridged version of our Daily Report.
An almost-thrust
At the end of October, volume was flowing overwhelmingly into declining stocks, pushing the Up Volume Ratio into oversold territory. That has now changed, and the switch has been aggressive enough to (almost) trigger a traditional breadth thrust, which has been a good – but not great – sign going forward.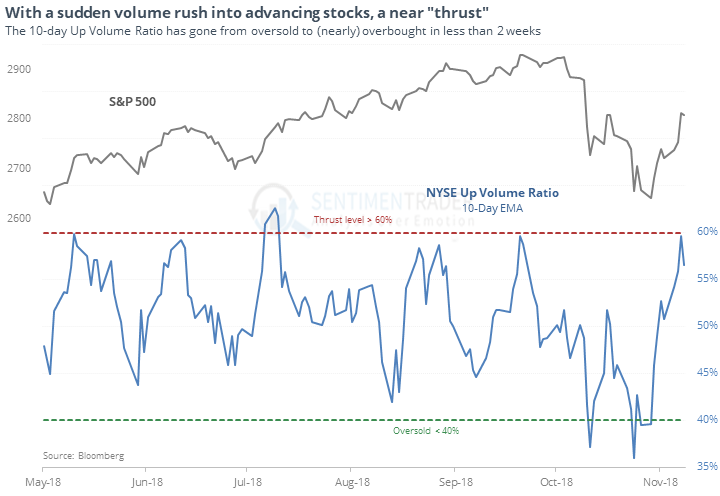 These bounces tended to lead to some upside follow-through over the next couple of weeks, with only 4 losses out of 21 signals, all but one being smaller than -1%. Reward was more than three times greater than risk. After that, it was still generally positive, but much less consistent.
Bond boondoggle
Investors pulled nearly $20 billion from bond funds at the end of October, one of the worst weeks ever. Other times the outflow was this large, the broader bond market rallied. The outflow was precipitated by bonds rallying fewer than 20 out of 50 days, suggesting deep oversold conditions.
Oil's bear market
Oil declined 20% from its peak, triggering the signals noted in the November 6 report.
Fed adjustments
Markets were mostly muted in reaction to the FOMC decision on interest rates. The dollar gained more than 0.5%, which has led to more gains the next day 80% of the time, but nothing consistent after that. Emerging markets (the EEM fund) lost more than 2%, which has only happened 5 other times.


Related Posts:
---
Tagged As:
The post titled An Almost-Thrust; Bond Boondoggle was originally published as on SentimenTrader.com on 2018-11-09.
At SentimenTrader.com, our service is not focused on market timing per se, but rather risk management. That may be a distinction without a difference, but it's how we approach the markets. We study signs that suggest it is time to raise or lower market exposure as a function of risk relative to probable reward. It is all about risk-adjusted expectations given existing evidence. Learn more about our service , research, models and indicators.
Follow us on Twitter for up to the minute analysis of market action.
Follow @sentimentrader