With a surge in stocks on Tuesday, breadth figures are impressive. In the Dow, the only negative member today is Boeing.
If it sticks into the close, this will be the first time since early April that at least 29 members of the Dow rose together. This is coming on the heels of what had been a fairly depressed 10-day average. For most of the past month, the 10-day average has shown fewer than 15 Dow members rising on an average day.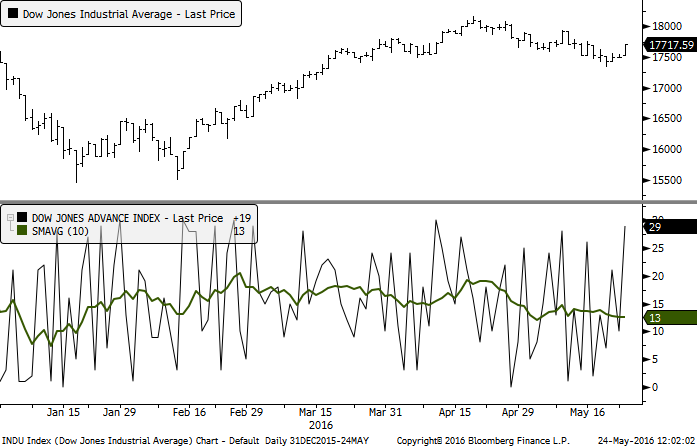 Let's look back over the past 20 years and see how the Dow performed after the 10-day average was 15 or below and then it saw a day with at least 29 advancing stocks.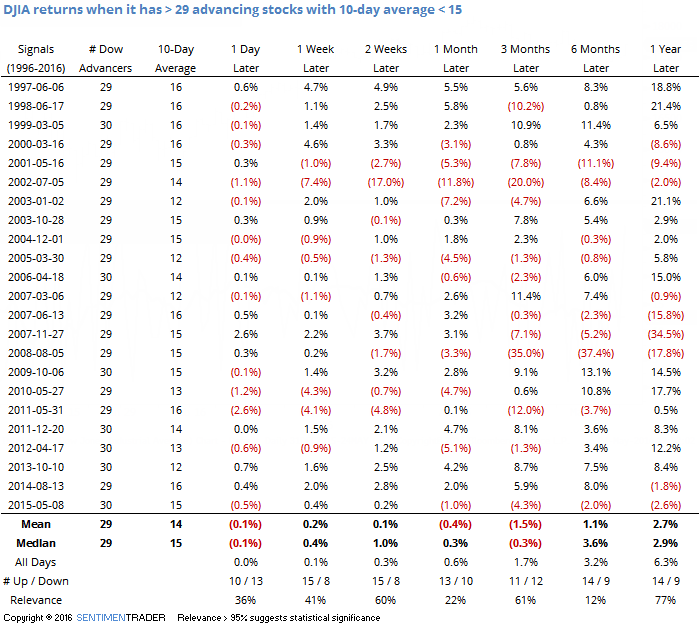 Returns were weak in the very short-term, which is typical following thrusts like this. Buyers take a breath and indexes tend to pull back a bit. But even by a week later, it was higher 15 out of 23 times. By two weeks later, there were only 3 losses greater than -2% but 8 winners greater than +2%. Returns softened after that and by three months later, there were only 11 winners versus 12 losers and the overall average return was negative.
This confirms the typical pattern after a thrust like this - some minor consolidation in the very short-term, then upside follow-through over the next 1-3 weeks. After that, it's more of a toss up.
---