All-Day Trading As Shorts Flee
---
---

This is an abridged version of our Daily Report.
With overnight gains, why not trade all day?
Most of the gains in stocks come overnight, and mom and pop traders have taken note. TD Ameritrade is trying to meet that need by rolling out 24-hour trading. That rhymes with the 1999-2000 period when retail brokerages introduces after-hours and pre-market trading.
Don't short a melt-up
Investors have apparently taken to heart the idea that shorting a melt-up market is a bad idea. Shares sold short on the NYSE and Nasdaq have plunged by the most since the low in 2009.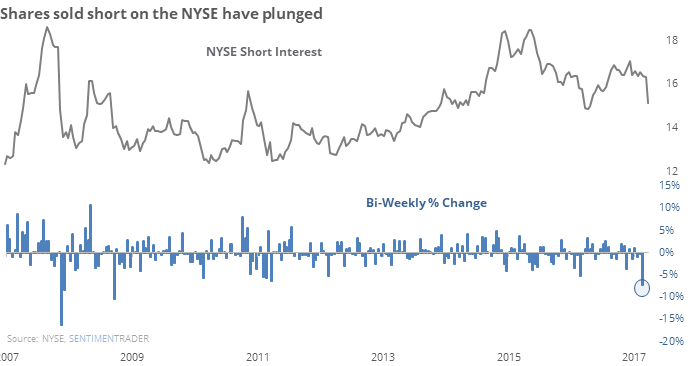 It's rare to see this large of a decline in short interest when short sales were already relatively low.
So much for that selloff
Biotech stocks suffered a negative reversal and large losses last week. Those losses were more than erased with a surge on Monday.
Nice run
The last time the S&P 500 had a run like this, with a stretch of days without closing below the prior day's low, then a relatively big gain to a new high, was March 1.
For access to the full report, indicators, charts, screens, and Backtest Engine, log in or sign up for a free 30-day trial today.
The post titled All-Day Trading As Shorts Flee was originally published as on SentimenTrader.com on 2018-01-23.
At SentimenTrader.com, our service is not focused on market timing per se, but rather risk management. That may be a distinction without a difference, but it's how we approach the markets. We study signs that suggest it is time to raise or lower market exposure as a function of risk relative to probable reward. It is all about risk-adjusted expectations given existing evidence. Learn more about our service , research, models and indicators.
Follow us on Twitter for up to the minute analysis of market action.
Follow @sentimentrader