After This Happened, Stocks Fell 15%
---
---
A trio of laggards
Even though the S&P 500 recently hit a fresh all-time high, several sectors have been trailing. Small-cap stocks, transports, and banks have all hit new 52-week lows relative to the S&P.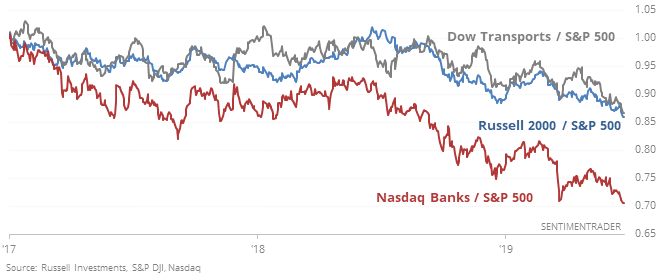 This is atypical behavior, with a tendency to lead to selling pressure. When two of the three were at lows, it was a bad enough sign. The S&P's forward returns were well below random, and risk about kept pace with reward up to six months later.
The most troubling thing is that after the only two other times when all three indexes traded at a relative low at the same time, the S&P lost at least 15% at some point during the next three months.
Missing confidence
The latest survey on consumers' confidence in the U.S. took a hit. The survey came in much weaker than economists had expected. Big misses themselves haven't been that much of a problem for stocks but combined with the potential that confidence is rolling over, it's more of a worry.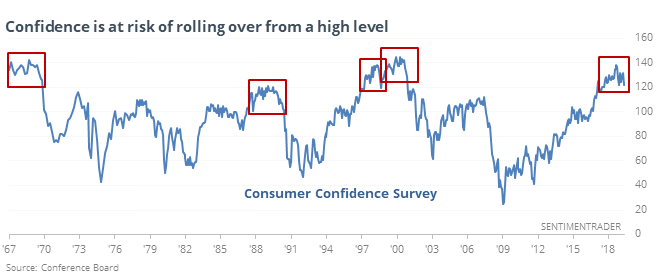 The sample size is pathetically small, so for what it's worth, the dollar rose over the next 1-3 months after each of these, and gold fell. Treasuries struggled, too.
Optimistic on bonds
The 20-day average of the Optimism Index for bonds has approached 70% for the first time in years. According to the Backtest Engine, readings this high have led to gains for 10-year Treasury futures over the next three months only 34% of the time. Same goes for funds like TLT.
And gold
Over the past 3 sessions, the Optimism Index for GLD has averaged 92, the highest in more than three years. The Backtest Engine shows that a reading this high led to a negative return over the next 1 or 2 weeks every time but once.
This post was an abridged version of our previous day's Daily Report. For full access, sign up for a 30-day free trial now.

Related Posts:
---
Tagged As:
The post titled After This Happened, Stocks Fell 15% was originally published as on SentimenTrader.com on 2019-06-26.
At SentimenTrader.com, our service is not focused on market timing per se, but rather risk management. That may be a distinction without a difference, but it's how we approach the markets. We study signs that suggest it is time to raise or lower market exposure as a function of risk relative to probable reward. It is all about risk-adjusted expectations given existing evidence. Learn more about our service , research, models and indicators.
Follow us on Twitter for up to the minute analysis of market action.
Follow @sentimentrader