A Week with no Worries Whatsoever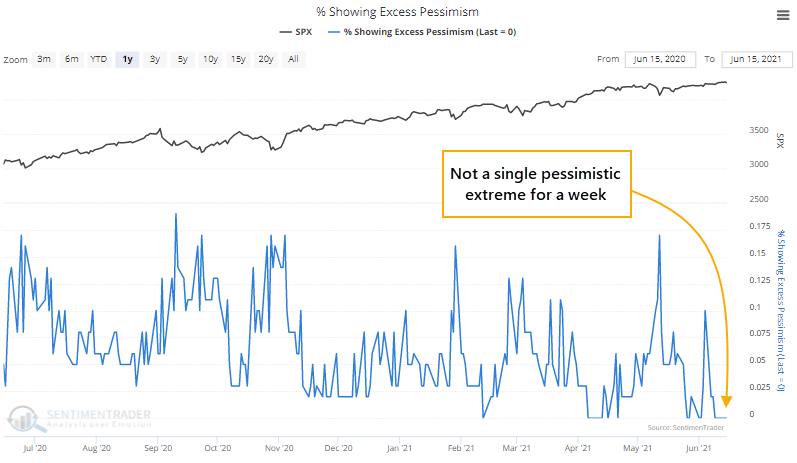 Last March, more than half of our core indicators were showing extreme pessimism. That's the kind of lopsided sentiment that has reliably coincided with the final "puke" phase of a decline, like the Christmas panic of 2018.
My how times have changed.
Over the past year, the few minor selloffs we've seen have pushed no more than 18% of indicators into pessimistic territory. And for the past week, there has not been a single one of our core indicators showing pessimism.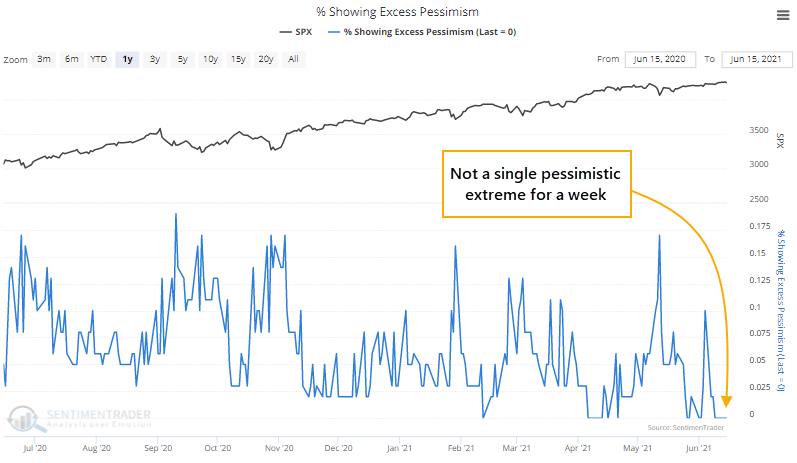 It's been rare to see an entire week go by without even one indicator sliding into extreme territory. The longest streak was 8 days, but before 2009, there wasn't a streak of even 5 days. 
The handful of times we went a week without a pessimistic extreme, the S&P 500 wasn't able to sustain its gains much longer.
Not only have there been no indicators showing pessimism, but 45% or more indicators have been showing extreme optimism. That has pushed the 10-day average of the spread between them to one of the highest levels in 5 years.
What else we're looking at
What happened to the S&P after other weeks with no pessimism
Returns following times when optimistic indicators far outpaced pessimistic ones
A current look at gold
A timing system for the equal-weight vs. capitalization-weight S&P 500 index

---
Stat box



Wednesday was only the 5th time that stocks, inflation-linked bonds, and gold all fell at least 0.5% the day of a Federal Reserve interest rate announcement. Of the three, gold suffered the worst in the short term after the other four instances.
---
Etcetera
Give and take. Last week, the OIH Fund Flow reached an all-time high with a $432 million inflow. Then more than $200 million was withdrawn from the fund, a big turnaround from only a few days ago.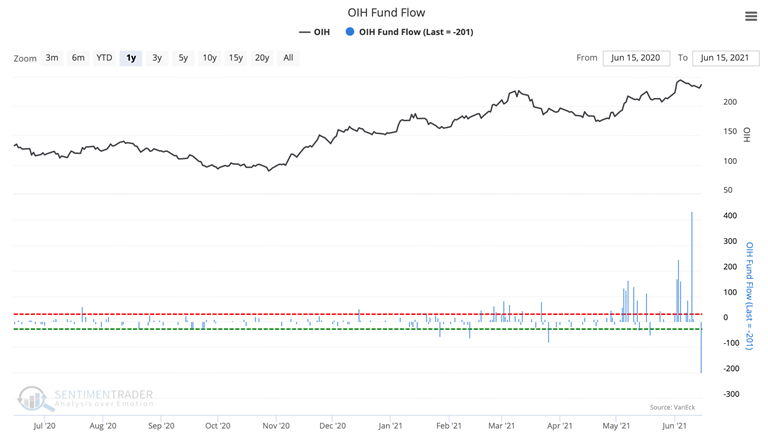 It's test time. Our Optimism Index for gold has plunged in recent days. It's nearing neutral, a "reset" threshold that has pulled in buyers every time over the past year. Watch for a change in character.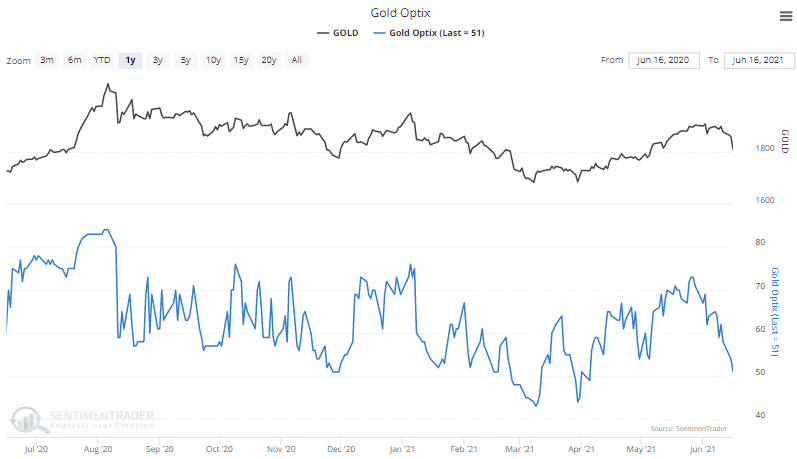 Hog wild. The Hogs Hedgers Position has reached its third-lowest point ever, bottoming at -74,598 contracts. Using our Backtest Engine, we can see that when this indicator crossed below -74k, one month later, hog prices were higher three out of four times. "Smart money" traders are selling heavily, but hogs prices usually don't fall until after hedgers start to reverse their outlook.