A Weak Retracement; A Dollar Milestone
---
---
This is an abridged version of our Daily Report.
A weak retracement
At its high point of the bounce during the past two weeks, the S&P never managed to retrace more than 61.8% of its pullback from the September peak.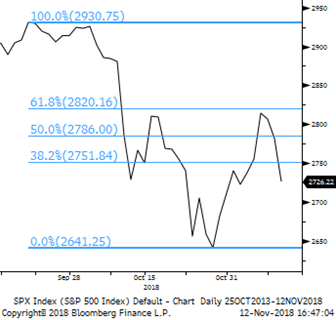 It has now started to fail and fall back to the lower end of its range. While considered a technical warning sign, weaker retracements like this have led to much better returns than stronger ones that initially exceeded that 61.8% "resistance" level.
A new dollar milestone
The U.S. dollar hit a 350-day high for the first time in nearly two years on Monday, ending one of its longer streaks without this significant of a high. Other times it reached this kind of milestone, stocks did fine going forward, especially the defensive sectors, but commodities stumbled, especially gold. For the S&P 500, it showed a bit of weakness over the next couple of weeks, but that was about it. After that, its returns were mostly positive and with a decent but not great risk/reward. Six months later, the S&P was higher 84% of the time. Only 2001 and 2008 showed any meaningful weakness.
Energy crunch
The OIH Oil Services fund is the most-hated among ETFs we follow. Over the past 20 days, its Optimism Index has declined to just over 25, the 4th worst in its 5-year history. According to the Backtest Engine, there have been 10 other days when the 20-day average was this low, leading to rebounds over the next two weeks each time.
Dollar bulls
The 20-day Optimism Index on the U.S. dollar is climbing toward 70. Over the past 15 years, there have been 438 days when the average was as high as it is now.




Related Posts:
---
Tagged As:
The post titled A Weak Retracement; A Dollar Milestone was originally published as on SentimenTrader.com on 2018-11-13.
At SentimenTrader.com, our service is not focused on market timing per se, but rather risk management. That may be a distinction without a difference, but it's how we approach the markets. We study signs that suggest it is time to raise or lower market exposure as a function of risk relative to probable reward. It is all about risk-adjusted expectations given existing evidence. Learn more about our service , research, models and indicators.
Follow us on Twitter for up to the minute analysis of market action.
Follow @sentimentrader