A Volatile Two Weeks; S&P's Double-Dip Pullback
---
---
This is an abridged version of our Daily Report.
Swing time
Stocks have swung by +/- 1.5 standard deviations most of the past 12 sessions. At least 3 of them were to the upside and 3 to the downside.
There is a market cliché stating that bull markets become more volatile as they peak and head into a bear market environment. We don't have much use for textbooks and clichés, so let's go back to 1928 and look for times when the S&P was within 10% of a peak, then underwent a bout of extreme two-way moves.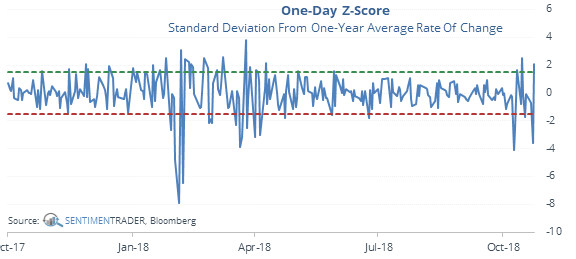 Relative to what investors had become accustomed to in the past year, these types of moves most often led to medium-term recoveries.
Double dip
The S&P dropped more than 9% from its peak for the 2nd time in less than a year. What's notable about this is that it's the second time in less than a year that the S&P has reached (almost) correction territory. Related to the idea that bull markets become volatile as they peak, this double-dip (almost) correction has investors worried. While something similar preceded the peaks in 2000 and 2007, it has usually led to a shorter-term rebound, and trouble was often further off.
Not confident
Deterioration in optimism among trend-followers has pushed Dumb Money Confidence to 20%, the lowest since January 2016. According to the Backtest Engine, it has matched or exceeded this low of a level on 78 days since late 1998.
Financial woes
More than 35% of stocks in the Financial sector hit a 52-week low on Wednesday. Since 1990, there have been 73 days with that many lows in the sector. Its one-year return following those days averaged 35.0% with 78% of them positive.


Related Posts:
---
Tagged As:
The post titled A Volatile Two Weeks; S&P's Double-Dip Pullback was originally published as on SentimenTrader.com on 2018-10-26.
At SentimenTrader.com, our service is not focused on market timing per se, but rather risk management. That may be a distinction without a difference, but it's how we approach the markets. We study signs that suggest it is time to raise or lower market exposure as a function of risk relative to probable reward. It is all about risk-adjusted expectations given existing evidence. Learn more about our service , research, models and indicators.
Follow us on Twitter for up to the minute analysis of market action.
Follow @sentimentrader