A very expensive earnings season
---
---
As we head into Q1 earnings reporting season, expectations are high and stocks are expensive. Wall Street, and the investors that rely on their analysis, are gearing up for blockbuster performances.
At the start of the last 282 earnings seasons, dating back to 1950, the average Shiller PE ratio for the S&P 500 was 19.3. This season, its valuation is nearly twice that, above 37.0.
The histogram below shows the distribution of valuation ratios on days when earnings season began for any quarter since 1950.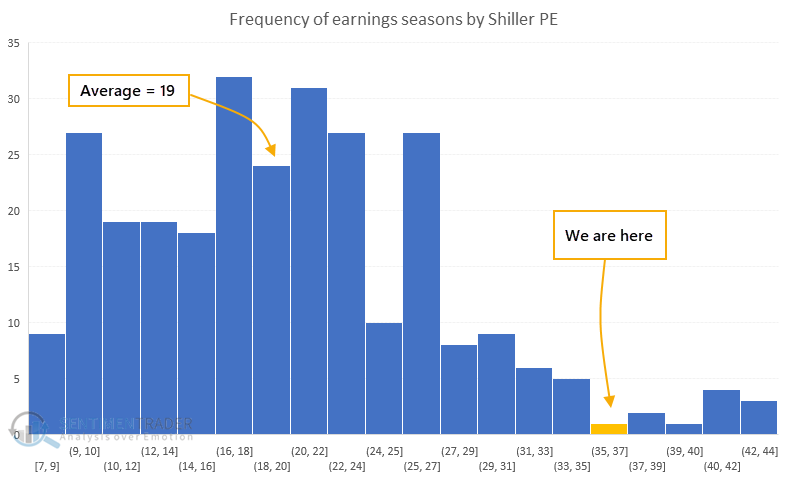 It's not a shocker that stocks are expensive, just as we head into the period that investors will be most focused on the denominator of that equation. But using valuation for short-term guidance like a single earnings season is iffy, and indeed there has been only a slight negative correlation.
There have been 16 Q1 earnings seasons when the Shiller PE was 25 or higher, and the S&P's returns during those earnings seasons was well below the average return during other seasons.

Stat Box



For only the 12th time since 1928, the S&P 500 rose more than 0.25% on Tuesday to close at a 52-week high, yet there were at least

50

more declining stocks than advancing stocks in the index, as the biggest companies drove the index higher.
What else we're looking at
Full returns during Q1 earnings reporting season when CAPE is above 25
Difference in returns during earnings season depending on starting valuation
An update to our seasonality charts
What the advance/decline line is suggesting about risk right now

Related Posts:
---
Tagged As:
The post titled A very expensive earnings season was originally published as on SentimenTrader.com on 2021-04-14.
At SentimenTrader.com, our service is not focused on market timing per se, but rather risk management. That may be a distinction without a difference, but it's how we approach the markets. We study signs that suggest it is time to raise or lower market exposure as a function of risk relative to probable reward. It is all about risk-adjusted expectations given existing evidence. Learn more about our service , research, models and indicators.
Follow us on Twitter for up to the minute analysis of market action.
Follow @sentimentrader