A tiny market with huge volume
---
---
There is a feeding frenzy out there, and the devouring horde is roaming toward more and more speculative outlets.
It started last June with a spike in options trading, specifically calls. It reached a fever peak in late August, pulled back in September as losses piled up, then spiked again in December and continues to this day. Over the past 5 days, U.S. options exchanges have executed an average of nearly 27 million call contracts, a record high. As a result, potential selling pressure from dealers has also spiked to a record.
Even while the TikTok crowd still hasn't become bored with options, they've branched out to other avenues. That has been readily apparent over the past few weeks. As Bloomberg notes, that includes penny stocks. When January's figures are released, it's likely going to show near-record levels of volume in these lottery tickets
Even in December, this activity was starting to spike. For the first time in a decade, more than 1 trillion shares traded. Yeah, that's trillion with a "t."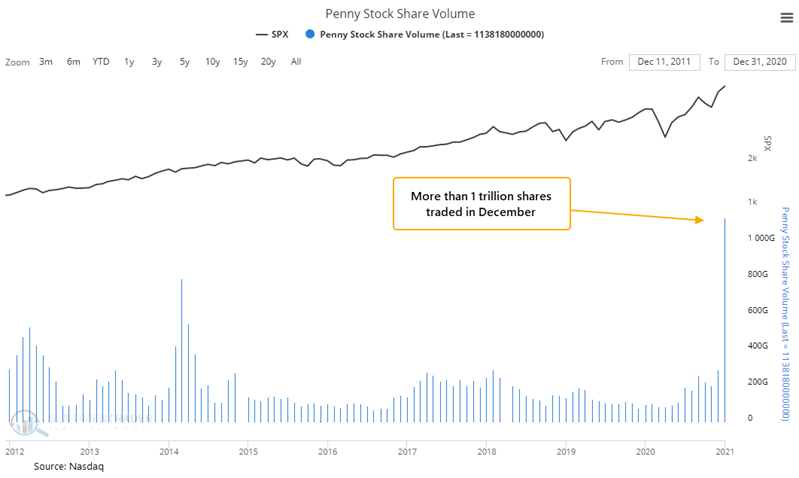 For comparison's sake, that's nearly 50 times the volume traded among securities in the Nasdaq Composite index.
What else we're looking at
What happens after other big spikes in penny stock share volume since 1995
Looking at penny stock volume relative to total Nasdaq volume and $ amount traded
There have been 2 other times call volume and Gamma Exposure both skyrocketed
Think tech is in a bubble? We show a low-risk way to express that view with options on NFLX
What it means when there is an internal surge among emerging market stocks
Most small business owners now expect deteriorating conditions, but it doesn't mean what you think
For immediate access to all the research with no obligation, sign up for a 30-day free trial
Stat Box



On Tuesday, options traders executed over 800,000 put contracts on 10-year Treasury notes. That's only the 5th time in history that more than 800,000 bearish bets were traded on the same day.
Sentiment from other perspectives
A levitating market has emboldened investors to push more than $44 billion into equity funds in a single week, setting an all-time record. Source: Visual Capitalist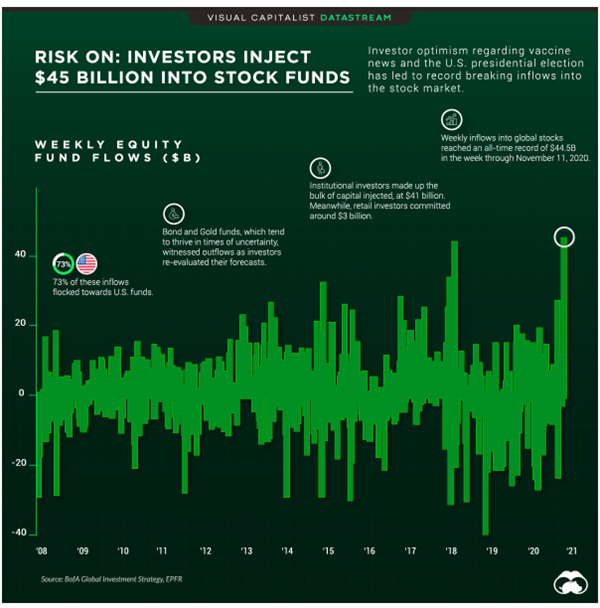 These fund flows are separate from the money moving into individual stocks. And many of those in recent weeks have been among the most speculative. Source: Bloomberg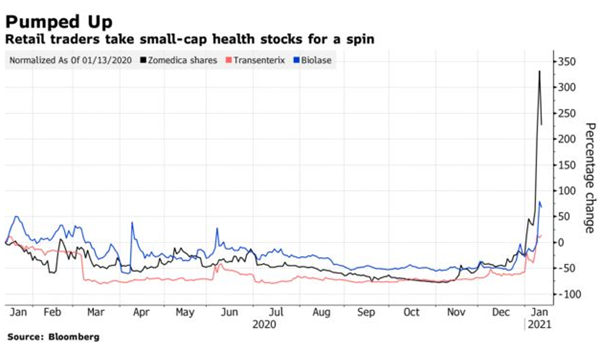 And what does Wall Street do when appetite is so voracious. Why, they feed the duck, of course. Source: Ed Yardeni via David Schawel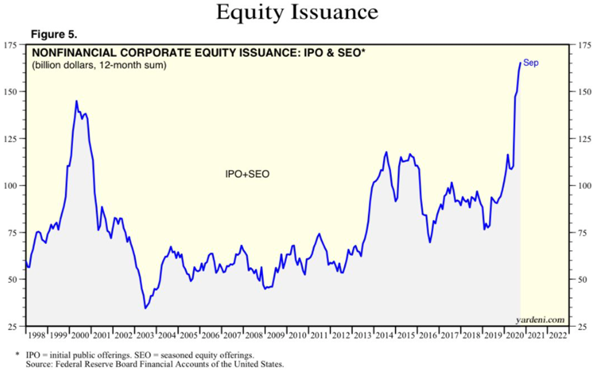 The post titled A tiny market with huge volume was originally published as on SentimenTrader.com on 2021-01-14.
At SentimenTrader.com, our service is not focused on market timing per se, but rather risk management. That may be a distinction without a difference, but it's how we approach the markets. We study signs that suggest it is time to raise or lower market exposure as a function of risk relative to probable reward. It is all about risk-adjusted expectations given existing evidence. Learn more about our service , research, models and indicators.
Follow us on Twitter for up to the minute analysis of market action.
Follow @sentimentrader