A small trader retreat...kind of
---
---
There seems to be a growing narrative that retail traders have left the market, or at least pulled back greatly, and stocks have held up just fine. The latest stimmy hasn't engaged new investors like the prior rounds did since there's more to do now than sit in the basement and click on tickers that seem to generate profits every day.
Take this Monday headline from the Wall Street Journal, for example.

The article goes on to note:
Individual investors kicked off 2021 at a sprinter's pace. Now, they are finally showing signs of fatigue.

Trading activity among nonprofessional investors has slowed in recent weeks after a blockbuster start to the year, with the group plowing less money into everything from U.S. stocks to bullish call options.
That doesn't really tell the whole story.
During last week's holiday-shortened sessions, the smallest of traders spent 47% of their volume on speculative call buying. Sure, that's down from 55% in January but it's still higher than any other pre-2020 week in 20 years other than (barely) the peak in 2000.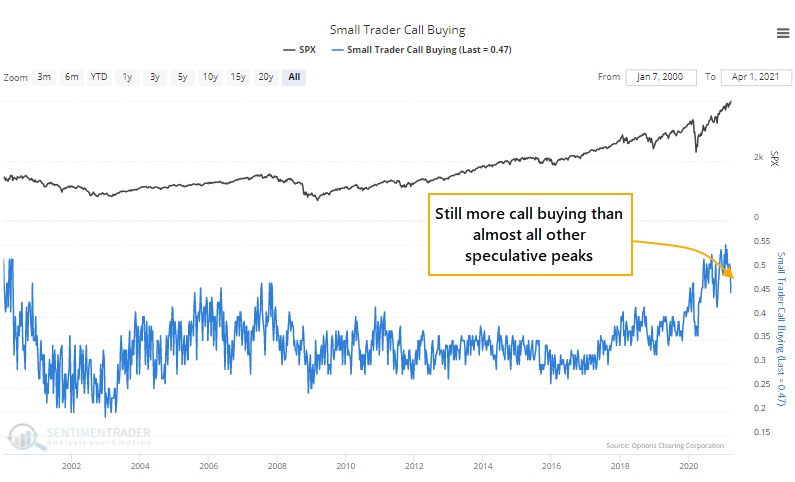 It's not like they suddenly bought a bunch of protective puts, too. Our ROBO Put/Call Ratio - one of the few ways for investors to see precisely who is doing precisely what - dropped last week and remains mired among the lowest readings in history.

Stat Box



For the

16th

time in its history, the S&P 500 ETF, SPY, gapped up by more than 0.5% and added more than 0.5% to its gains intraday while hitting a new high. These "gap and go" setups typically didn't "go" all that much, with all but one of them closing the gap eventually.
What else we're looking at
A more detailed look at small-trader call vs put buying last week
Including all options strategies, and relative to overall volume levels, small traders clearly still have a bias
Taking a look at a crude oil ETF and its performance in April
Going back further, a major energy fund shows a distinct pattern at this time of year
Updating a signal on copper

Related Posts:
---
Tagged As:
The post titled A small trader retreat...kind of was originally published as on SentimenTrader.com on 2021-04-06.
At SentimenTrader.com, our service is not focused on market timing per se, but rather risk management. That may be a distinction without a difference, but it's how we approach the markets. We study signs that suggest it is time to raise or lower market exposure as a function of risk relative to probable reward. It is all about risk-adjusted expectations given existing evidence. Learn more about our service , research, models and indicators.
Follow us on Twitter for up to the minute analysis of market action.
Follow @sentimentrader