A Sign Of Irrational Pessimism
---
---
Irrational pessimism
Individual investors keep getting more pessimistic. While stocks have had a bad week, investors' pessimism is extremely high given the mild pullback in stocks.

There haven't been many times investors were as negative as they are now when the S&P was still sitting within 5% of its peak.
They were prescient in 2015, pulling in their horns just as stocks were embarking on a rough patch. But that was about their only success. It was the only time the S&P lost more than 5.2% at its worst point within the next six months. But there were 17 times when the S&P gained more than that amount at its best point in the next six months.
Undervalued
Stocks and bonds have an inconsistent correlation, but they do tend to move within a relatively stable band around long-term moving averages. When one of the markets sees a sudden move relative to the other, the ratio between them can get out of whack.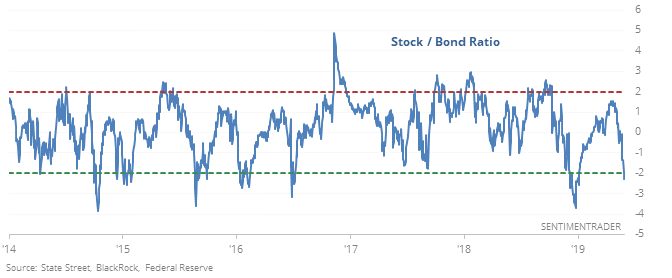 That usually coincides with an inflection point, and that's usually in stocks.
Junk jilted
Traders have pulled more than $1.7 billion from the HYG and JNK high-yield bond funds over the past two days. That's close to a record amount, at more than 7% of total fund assets. The last time the funds lost this much, this fast, was in late December.
Hedging something
The Total Put/Call Ratio was extremely high on Wednesday, but the Equity-Only ratio was not. That means there was a lot of put activity in "other stuff." There have been 10 other days in 20 years when "other stuff" activity was so high, and the S&P 500 rallied over the next three months every time.
This post was an abridged version of our previous day's Daily Report. For full access, sign up for a 30-day free trial now.

Related Posts:
---
Tagged As:
The post titled A Sign Of Irrational Pessimism was originally published as on SentimenTrader.com on 2019-05-31.
At SentimenTrader.com, our service is not focused on market timing per se, but rather risk management. That may be a distinction without a difference, but it's how we approach the markets. We study signs that suggest it is time to raise or lower market exposure as a function of risk relative to probable reward. It is all about risk-adjusted expectations given existing evidence. Learn more about our service , research, models and indicators.
Follow us on Twitter for up to the minute analysis of market action.
Follow @sentimentrader