A rough summer suggests a change in the White House
---
---
With a rise in social unrest, confusion over the pandemic response, and a highly volatile market, the probability of President Trump holding onto his office has dwindled.
Whatever one's political associations, there seems to be a clear correlation between re-election odds and the price path of the Dow Industrials.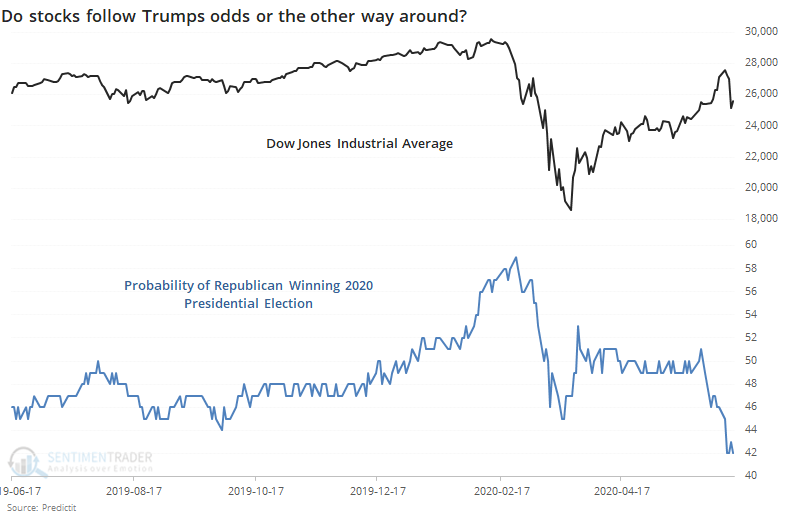 Like any correlation, it's hard to know whether it's just happenstance, or even which one might be causing the other. Whatever the underlying cause and effect, there does seem to be a rise in anxiety among traders when approval numbers drop.
We're about 100 days from the election, so if we look at returns in the Dow Jones Industrial Average once we reach the 100-days-before-election mark, depending on whether an incumbent Republican wins (or loses to another Republican) or loses to a candidate from the Democratic Party, there was a wide deviation among returns. If a Republican ended up losing to a Democrat, the summer months were rough for stocks.
This is an abridged version of our recent reports and notes. For immediate access with no obligation, sign up for a 30-day free trial now.
We also looked at:
Full tables looking at returns 100 days before elections given who won the White House
Dumb Money Confidence has quickly cycled from record pessimism to extreme optimism

Related Posts:
---
Tagged As:
The post titled A rough summer suggests a change in the White House was originally published as on SentimenTrader.com on 2020-06-17.
At SentimenTrader.com, our service is not focused on market timing per se, but rather risk management. That may be a distinction without a difference, but it's how we approach the markets. We study signs that suggest it is time to raise or lower market exposure as a function of risk relative to probable reward. It is all about risk-adjusted expectations given existing evidence. Learn more about our service , research, models and indicators.
Follow us on Twitter for up to the minute analysis of market action.
Follow @sentimentrader