A Remarkable Run, As Bulls Return And Dow Stocks Are Above Average
---
---
A remarkable run
Both the S&P 500 and Russell 2000 have enjoyed a near-historic run from their Christmas Eve lows. The magnitude of their gains, interrupted by only a few large daily losses, have been matched only a few times.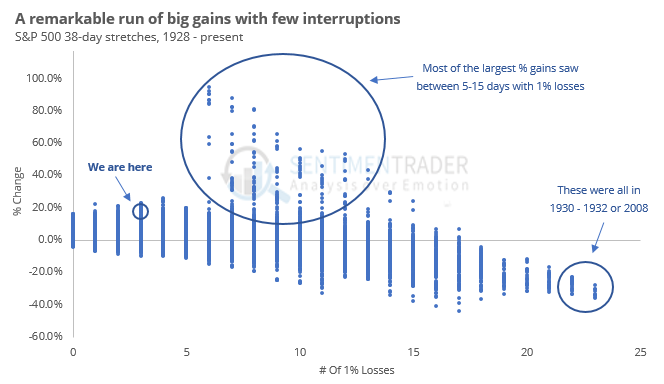 The sample sizes are tiny, but the implications are mostly positive, especially for the small-cap Russell index. Context matters, too, and our current stretch is notable because it's coming off a time when the S&P and Russell are recovering from a 52-week low. For the Russell, in particular, its forward returns after similar instances was stunning.
Bulls return
For the first time in four months, more than half of newsletter writers are bullish, per Investor's Intelligence. This comes after fewer than a third of them were bullish in December. Other times the majority started to expect higher prices, stocks struggled short-term.
Few dogs in the Dow
Almost all Dow Industrial stocks are trading above both their 10- and 50-day moving averages. Because of the December decline, though, barely 80% of them are above their 200-day averages. That has set up mostly negative returns for the Dow over the next couple of months.
Big bulls
Our proxy of the CNN Fear & Greed model is now above 90%. Per the Backtest Engine, the S&P 500's next-day return averages -0.18% which is an annualized -36.5%, when the model shows this much optimism.
Spring spills
Gold has done well so far this year, but now it hits a hard part of the calendar. The seasonal pattern for gold peaks this week.
This post was an abridged version of our previous day's Daily Report. For full access, sign up for a 30-day free trial now.

Related Posts:
---
Tagged As:
The post titled A Remarkable Run, As Bulls Return And Dow Stocks Are Above Average was originally published as on SentimenTrader.com on 2019-02-21.
At SentimenTrader.com, our service is not focused on market timing per se, but rather risk management. That may be a distinction without a difference, but it's how we approach the markets. We study signs that suggest it is time to raise or lower market exposure as a function of risk relative to probable reward. It is all about risk-adjusted expectations given existing evidence. Learn more about our service , research, models and indicators.
Follow us on Twitter for up to the minute analysis of market action.
Follow @sentimentrader