A record month for hoarding cash
---
---
Investors have been shoving money into the safety of money markets on a scale never before seen. In March alone, they moved nearly $700 billion into these funds, more than four times any prior monthly inflow.
As a percentage of the asset base, the jump in March was still by far the most in 35 years.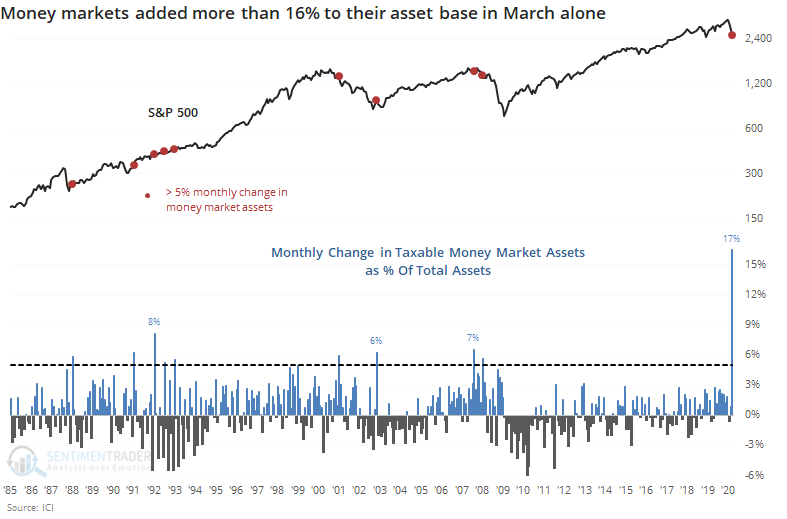 The record of these flows is not consistent as a predictor. It led to universally higher prices prior to the last two bear markets, when it was woefully early.
It's not just mom-and-pop investors. Institutions have been flooding money market funds, and mutual fund managers have raised the proportion of liquid assets in their funds.
When we look at data like fund flows, especially those released with a lag, we're only seeing the kind of activity that previously triggered near the beginning of past bear markets. Based on this data in isolation, it's extreme, but not actionable. It would take more months of heavy outflows from stocks and inflows to money markets to equate to the kinds of readings we more commonly saw at or near the ends of other bear markets, especially the last two.
This is an abridged version of our recent reports and notes. For immediate access with no obligation, sign up for a 30-day free trial now.
We also looked at:
Mutual fund managers' cash position has rebounded
Their "cash deficit" given the level of interest rates has moved out of extreme territory
The ratio of equity fund assets to money markets has plunged
The S&P 500's highest-correlated rallies from a 52-week low
Looking at the highest-correlated rallies based on sector returns since 1928
Worldwide fund flows remain tepid
Media articles mentioning "contraction" are at a record high
The monthly RSI for commodities is near a record low

Related Posts:
---
Tagged As:
The post titled A record month for hoarding cash was originally published as on SentimenTrader.com on 2020-05-04.
At SentimenTrader.com, our service is not focused on market timing per se, but rather risk management. That may be a distinction without a difference, but it's how we approach the markets. We study signs that suggest it is time to raise or lower market exposure as a function of risk relative to probable reward. It is all about risk-adjusted expectations given existing evidence. Learn more about our service , research, models and indicators.
Follow us on Twitter for up to the minute analysis of market action.
Follow @sentimentrader