A rebound in momentum but investors are still crabby
---
---
This is an abridged version of our recent reports and notes. For immediate access with no obligation, sign up for a 30-day free trial now.
In recovery
Momentum stocks have largely recovered from the swift, massive losses earlier in September. That drop triggered a rise in anxiety, but it's not the drop that's all that concerning – it's the fact that these types of stocks have become so volatile. They've swung from a 20-day drop of more than -10% to a gain of more than +10% within a short window.

Since 1928, when these types of stocks swing so wildly, it has led to higher-than-average risk over the medium-term for the broader market. Most remarkable about forward results in the S&P 500 are the average risk and reward values. They are about even up to six months later, and both are very large. When there was weakness, it was mostly confined to the short- to medium-term.
Never happy
Individual investors just won't buy into this market. The latest AAII survey showed yet another drop in optimism. Over the past 20 weeks, the Bull Ratio has dropped to the 2nd-lowest level since the financial crisis, nearly exceeding the prior extreme from August 2012. For a year when the S&P has done very well, the average Bull Ratio year-to-date ranks among the 10 lowest all-time.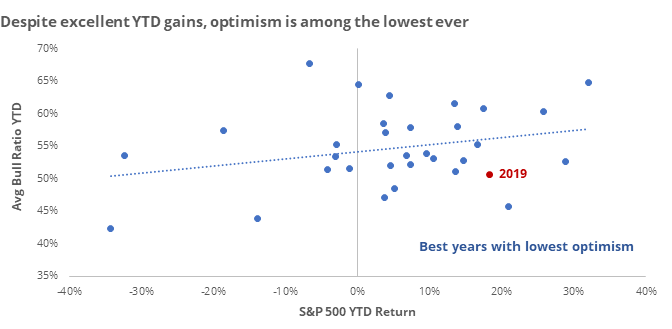 Longer-term, the S&P showed a positive return every time. There were some scary moments in between, especially in 2008, but over time stocks recovered with consistency.

The post titled A rebound in momentum but investors are still crabby was originally published as on SentimenTrader.com on 2019-10-11.
At SentimenTrader.com, our service is not focused on market timing per se, but rather risk management. That may be a distinction without a difference, but it's how we approach the markets. We study signs that suggest it is time to raise or lower market exposure as a function of risk relative to probable reward. It is all about risk-adjusted expectations given existing evidence. Learn more about our service , research, models and indicators.
Follow us on Twitter for up to the minute analysis of market action.
Follow @sentimentrader