A Non-Recessionary Correction; The Trend Is No Longer Your Friend
---
---
This is an abridged version of our Daily Report.
Non-recessionary pullback
Most recession models show a low probability of an imminent economic recession. If we use a simple, non-optimized, real-time model, it's currently showing 0% probability.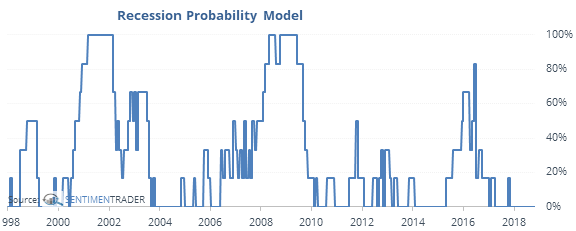 In that kind of environment, 10% pullbacks in stocks have generated strong returns with one major exception.
There are all kinds of recession-forecasting services out there, and a smattering of them are showing either a rising or outright high risk of imminent recession. The ones we've used in the past are showing basically the same as we are here, with a negligible probability of falling into one anytime within the next 6-12 months.

When that's the case, these 10% pullbacks ended up getting erased with a fresh 52-week high about 20% faster than they did when the recession probability was non-zero.
The trend is no longer your friend
The S&P's 200-day average is starting to roll over, ending a long positive streak. Its run of more than 600 days with a positive slope was one of the longest since 1928.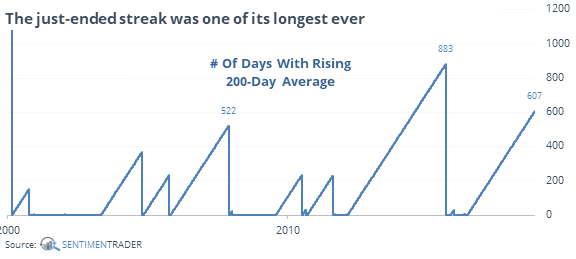 The ends of other streaks led to decent short- to medium-term returns, even when longer-term returns ended up being terrible. While the sample size is small – we don't often get to enjoy uninterrupted uptrends for this long – most of the others saw some kind of rebound over the shorter-term. Two weeks later, there were only two losses, and one of those was tiny.
The latest Commitments of Traders report was released, covering positions through Tuesday
The 3-Year Min/Max Screen shows only one new extreme, with hedgers moving to their largest long exposure to orange juice in years. They've been unwinding most of their other large long positions, such as in long-term Treasuries and gold.
Dumb is looking smart
This is the 12th time the S&P 500 has lost more than 1.5% the day after a Dumb Money Confidence reading below 21%. The only loss was -0.9% and was erased the next day.


Related Posts:
---
Tagged As:
The post titled A Non-Recessionary Correction; The Trend Is No Longer Your Friend was originally published as on SentimenTrader.com on 2018-10-29.
At SentimenTrader.com, our service is not focused on market timing per se, but rather risk management. That may be a distinction without a difference, but it's how we approach the markets. We study signs that suggest it is time to raise or lower market exposure as a function of risk relative to probable reward. It is all about risk-adjusted expectations given existing evidence. Learn more about our service , research, models and indicators.
Follow us on Twitter for up to the minute analysis of market action.
Follow @sentimentrader