A MoMo Market Even Better Than 2013 and 2017
---
---
Trends in 2021 have overpowered every other factor we typically consider when it comes to stocks. Sentiment hasn't mattered. Seasonality hasn't mattered. Divergences haven't mattered.
We saw earlier this week how this year has been among the best in history. It's even been remarkable for world markets. Within the universe of securities traded on the NYSE, this is the best market in over a decade and among the best in 60 years.
For nine months - 189 consecutive trading days - more than 65% of securities trading on that exchange have held above their 200-day moving averages. Even the remarkable momentum markets in 2013 and 2017 couldn't match this streak.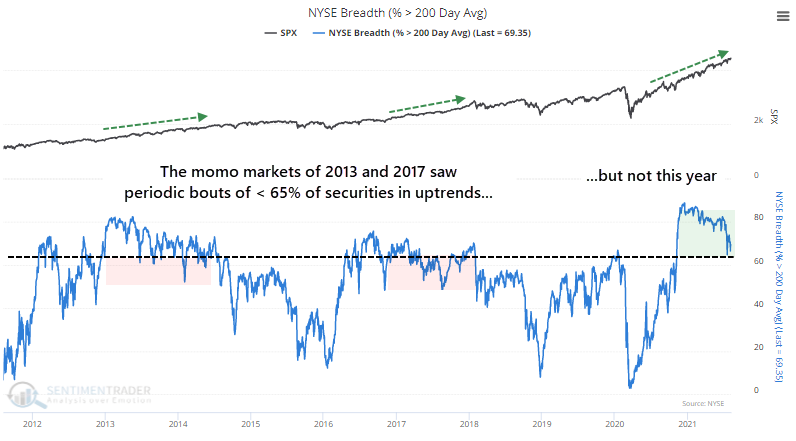 Dating back to 1927, this long of a streak has been rarely exceeded. Over the past 50 years, the only times the S&P 500 enjoyed a longer streak was when stocks began recovering following the 1970s malaise and the post-bubble bust in the early 2000s.
If we go back to 1928 and look at forward returns once we reached 189 days with more than 65% of securities above their long-term trendlines, it proved to be mostly a good sign though the medium-term of 2-3 months showed some sketchy returns.

---
What else we're looking at
Full returns in the S&P 500 following 189 days without a drop in NYSE securities above their 200-day averages
How sectors and factors fared after such long streaks of uptrends
A setup in the Japanese yen and ways to trade it using futures or a low-risk way with options
Another look at momentum in the Financials sector
---
Stat box



The S&P 500 fund, SPY, which is possibly the most important ETF in the world, has traded under 50 million shares for 7 consecutive days. This is only the 2nd time it has done so in the past 15 years, next to 8 straight days in October 2019.
---
Etcetera
Risk-on (and on and on). It has now been over 300 days since our aggregate Risk-On Indicator has dipped much below 50%. This is the longest stretch of risk-on behavior among investors over the past 22 years.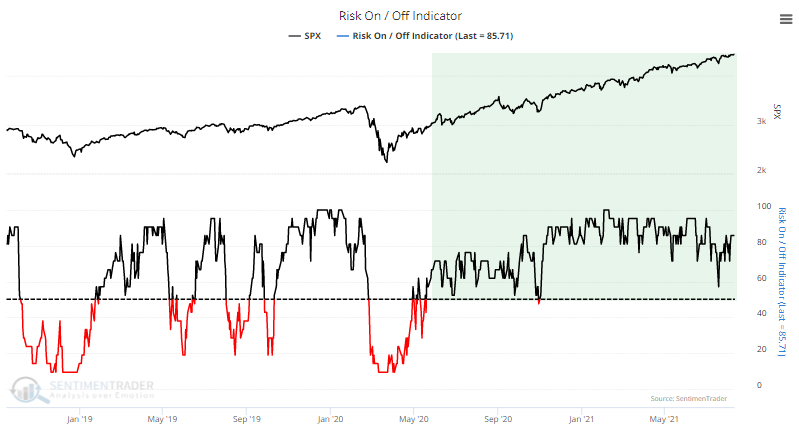 Investment worthy. Traders have been flooding into the LQD investment-grade corporate bond fund in recent days. It took in an average of more than $400 million per day over the past week, its 3rd-highest 5-day average inflow since inception.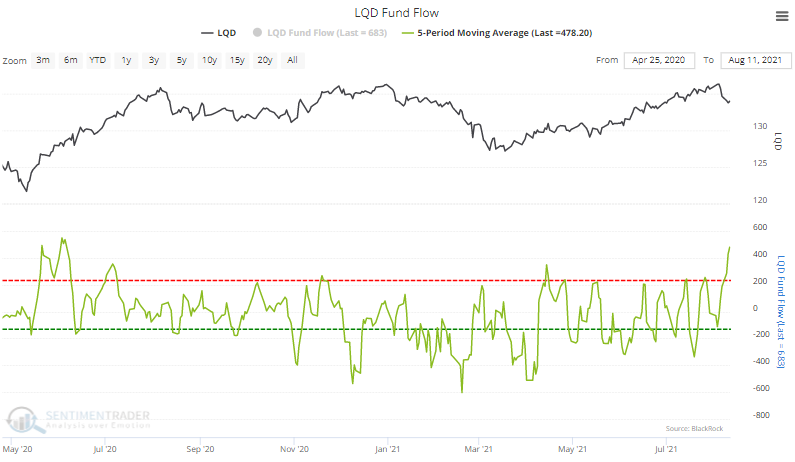 At the other end of the spectrum...Traders have been leaving the XLV Health Care fund in recent days. It lost an average of more than $250 million per day, its largest outflow of the past year.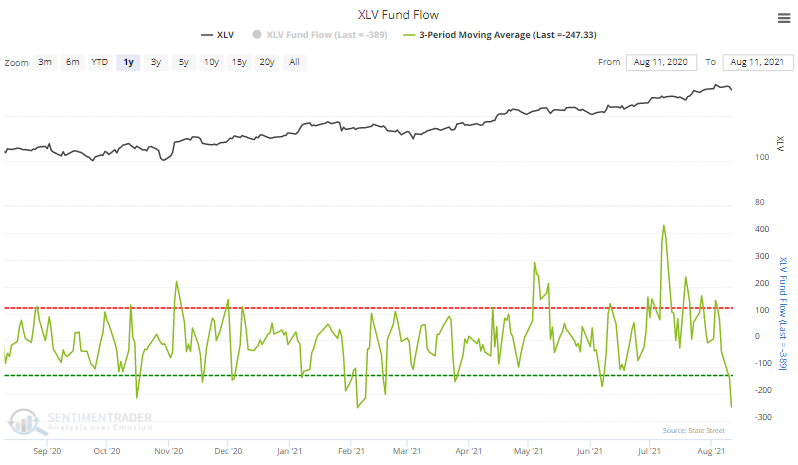 The post titled A MoMo Market Even Better Than 2013 and 2017 was originally published as on SentimenTrader.com on 2021-08-13.
At SentimenTrader.com, our service is not focused on market timing per se, but rather risk management. That may be a distinction without a difference, but it's how we approach the markets. We study signs that suggest it is time to raise or lower market exposure as a function of risk relative to probable reward. It is all about risk-adjusted expectations given existing evidence. Learn more about our service , research, models and indicators.
Follow us on Twitter for up to the minute analysis of market action.
Follow @sentimentrader