A Historic Turn In Fortunes
---
---
This is an abridged version of our recent reports and notes. For immediate access with no obligation, sign up for a 30-day free trial now.
Growth no mo' momo
The swift exodus from momentum stocks has hit those classified as "growth" hard, especially relative to those considered to be "value." The ratio between them has corrected sharply from a recent high.

It wasn't a consistent worry right away. All the indexes tended to rally over the next 1-4 weeks. But over the medium-term of 3-6 months, there was some trouble more often than not.

TRIN turnaround
The Arms Index, aka TRIN, hit extremely high levels last month, showing that an abnormal amount of volume was flowing into declining stocks, a sign of panic. That has now completely reversed.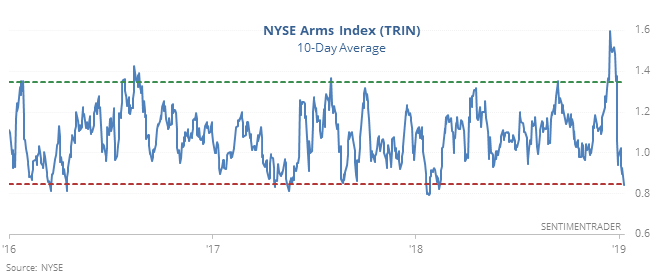 Other times the indicator made a round-trip from a high to low level since 1962, it mostly boded well for stocks, especially if we take out the 2001-03 bear market.
Those flows, though
The major index ETFs have taken in more than $9 billion in assets over the past four days, one the largest amounts in years. Their total shares outstanding have jumped about 2.5%, which doesn't sound like much but it is.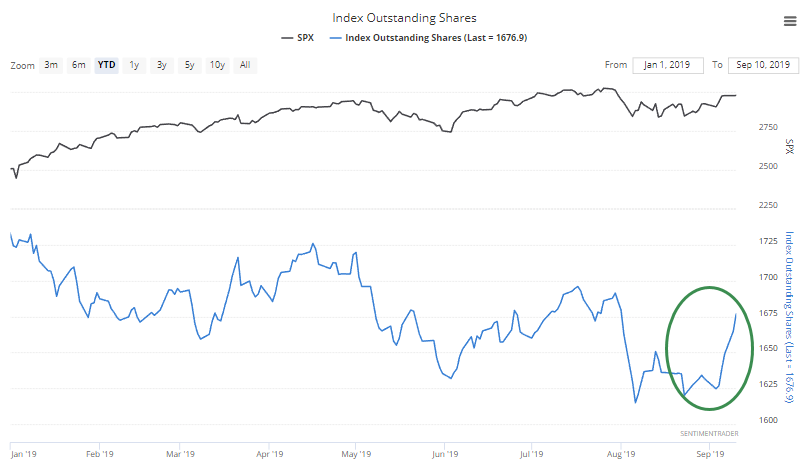 Because of shorting activity, this doesn't necessarily mean that traders are suddenly buying SPY, QQQ, DIA, and IWM hand over fist. Other times their total shares jumped by this much, the S&P 500 was higher two weeks later 8 out of 9 times. Fund flows like this can be hard to use in a consistent way.
Wary Rydex
Investors who use the Rydex family of mutual funds tend to be market-timers, and as Troy points out, the flow to bearish funds has hit an extremes.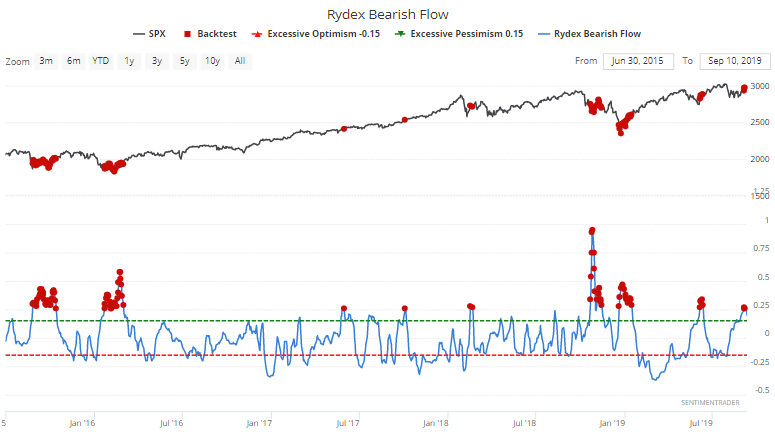 The Backtest Engine shows an 85% win rate 2 months later for the S&P 500 since the year 2000.
Darling Dow
The Dow has rallied 5 days in a row, while the NASDAQ has fallen on 3 of the past 5 days. (Or as almost everyone has noticed, value is outperforming growth). This happened 19 other times from 1970-present.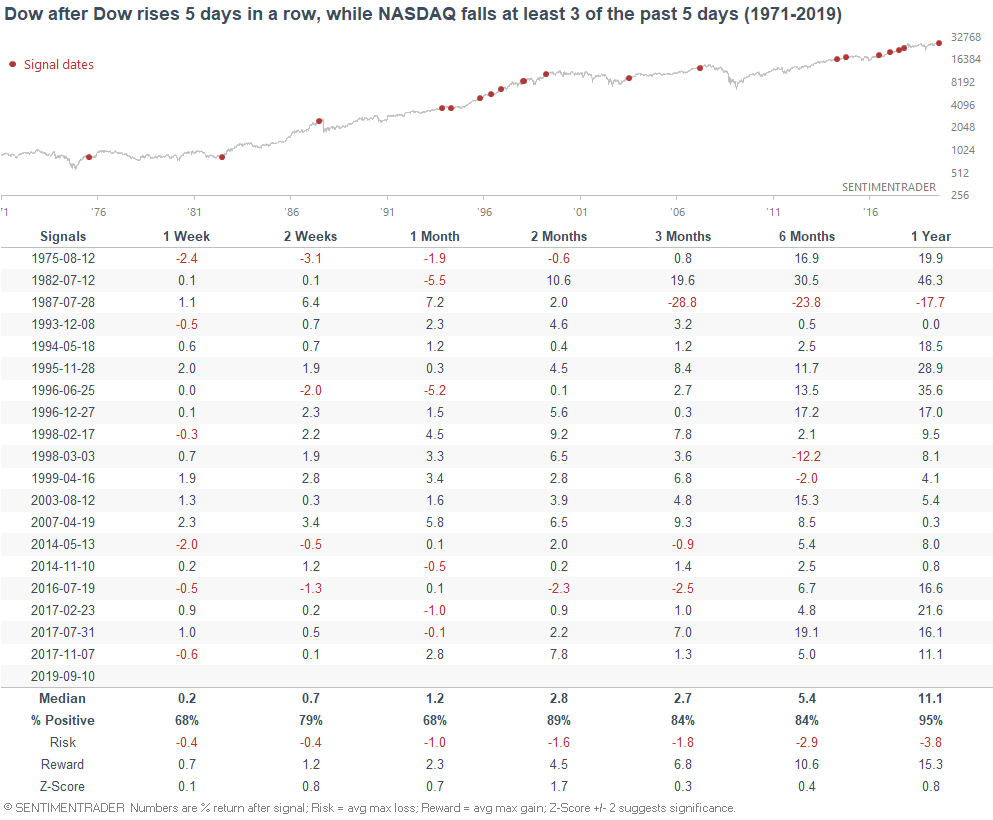 As you can see, this did happen before the 1987 crash and the 2007 bull market top. But overall, it was not consistently bearish for stocks on anytime frame. Something for everyone (bulls and bears), but this overall favors the bulls.

Related Posts:
---
Tagged As:
The post titled A Historic Turn In Fortunes was originally published as on SentimenTrader.com on 2019-09-11.
At SentimenTrader.com, our service is not focused on market timing per se, but rather risk management. That may be a distinction without a difference, but it's how we approach the markets. We study signs that suggest it is time to raise or lower market exposure as a function of risk relative to probable reward. It is all about risk-adjusted expectations given existing evidence. Learn more about our service , research, models and indicators.
Follow us on Twitter for up to the minute analysis of market action.
Follow @sentimentrader