A Historic Sentiment Shift
---
---
Irrational pessimism
The survey of individual investors from AAII can be noisy from week to week, with sometimes drastic changes. Even so, it's rare to see them change as much as they did this week, with one of the largest drops in optimism in history.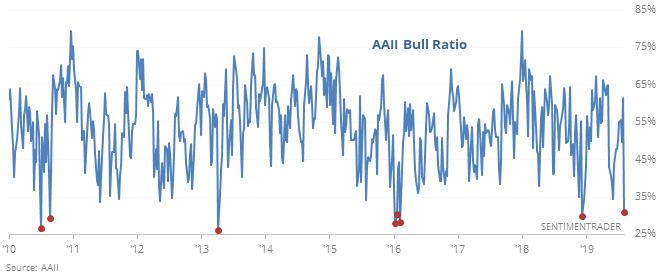 Sentiment became so low, during a generally uptrending market, that it has only preceded gains in the past. The one-week drop of more than 30% in the Bull Ratio is extreme for any kind of market environment, and again led to only gains over the medium- to long-term.
Island time
Traders panicked on Monday morning, forcing the futures well below Friday's close by the time regular trading hours opened. After chopping around for a couple sessions, they did the opposite on Thursday, with an unfilled gap up. That left an island reversal in S&P futures, which has been a reliable sign of capitulation.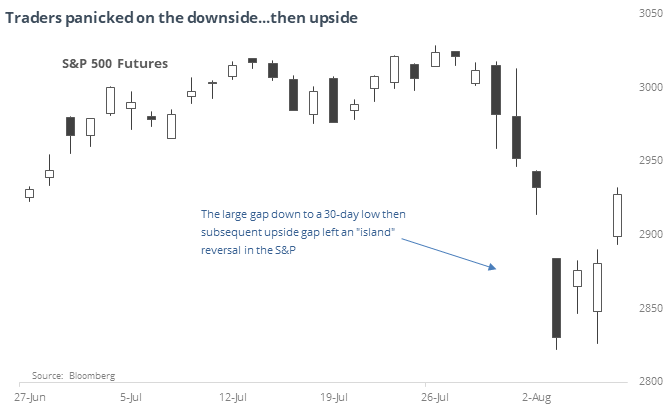 In an age of dominant passive investing high-frequency trading, price patterns may not be as reliable as they have been in past decades. But it's at least worth considering that only one precedent led to a loss over the next 6 months.
Taking no chances
According to Lipper, investors yanked more than $25 billion from equity funds this week, the 2nd-most in 17 years. According to the Backtest Engine, any week with an outflow more than $20 billion led to gains in the S&P 500 every time over the next 6 months (and only one exception 2 and 8 weeks later).
No letup
The MSCI Emerging Markets index suffered 10 straight down days, culminating in its lowest level in more than 6 months. That's only happened twice before in 30 years, in September 1990 and August 1998. Both led to more losses in the shorter-term, but a year later the index was higher by more than 35% both times.
This post was an abridged version of our previous day's Daily Report. For full access, sign up for a 30-day free trial now.

Related Posts:
---
Tagged As:
The post titled A Historic Sentiment Shift was originally published as on SentimenTrader.com on 2019-08-09.
At SentimenTrader.com, our service is not focused on market timing per se, but rather risk management. That may be a distinction without a difference, but it's how we approach the markets. We study signs that suggest it is time to raise or lower market exposure as a function of risk relative to probable reward. It is all about risk-adjusted expectations given existing evidence. Learn more about our service , research, models and indicators.
Follow us on Twitter for up to the minute analysis of market action.
Follow @sentimentrader