A historic drop in uptrends
---
---
Earlier this week, there were some dangerous signs underlying stocks' internal participation. Despite major indexes hitting new highs, some shorter-term breadth measures were showing rare and mostly troubling lags.
When stocks tumbled on Wednesday, the overwhelming number of declining issues pushed the McClellan Oscillator further below zero, to the point where it's already suggesting oversold conditions.
There was also a dramatic drop in the percentage of members in the S&P 500 holding above their 50-day moving averages. It plunged more than 20% on Wednesday alone, one of the largest single-day drops in medium-term trends in years. Even so, well over 75% of stocks are still holding long-term uptrends, trading above their 200-day moving averages.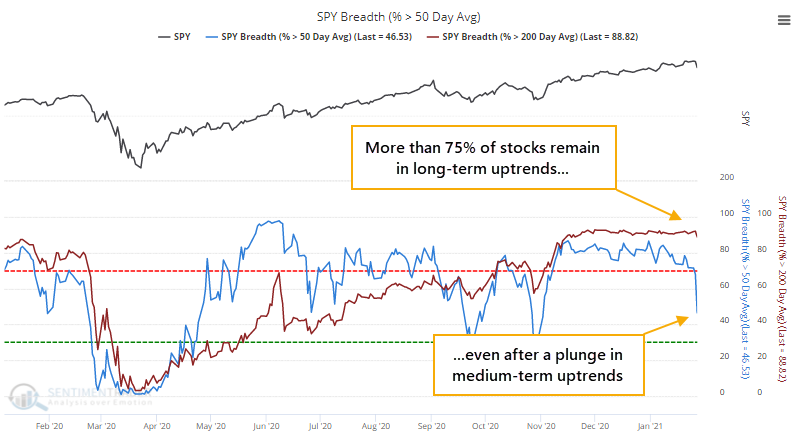 Looking at similar behavior since 1928, a swift correction in medium-term trends within the context of long-term uptrends has usually resolved to the upside, especially over the next 3-6 months. Three months later, there was only a single small loss, and the risk/reward was excellent.
What else we're looking at
What happens when the McClellan Oscillator gets oversold within only a few days of stocks sitting at new highs
Full returns following a drop in members above their 50-day moving averages but most of them above their 200-day averages
Investors still aren't totally in risk-off mode - there are relatively few defensive stocks outperforming the S&P 500
Despite a jump in the VIX, high-yield credit spreads aren't blowing out
What happens when investment managers suddenly reduce exposure
There has been a quick change in the % of stocks at 1-month highs vs lows
As we near the end of winter, two commodities show vastly different seasonal tendencies

Stat Box



A survey of active investment managers from NAAIM showed that professional investors reduced their net exposure to stocks by nearly

30%

in a single week, one of the largest declines in the history of the survey. The only time it occurred in the same week stocks hit a 52-week high was at the end of August 2014.
Sentiment from other perspectives
Volatility jumped this week, but implied volatility jumped even more. Options traders are pricing in bigger moves than the S&P 500 is currently undergoing, bringing the VIX close to levels that can see spillover to credit. Source: Bloomberg Weekly Fix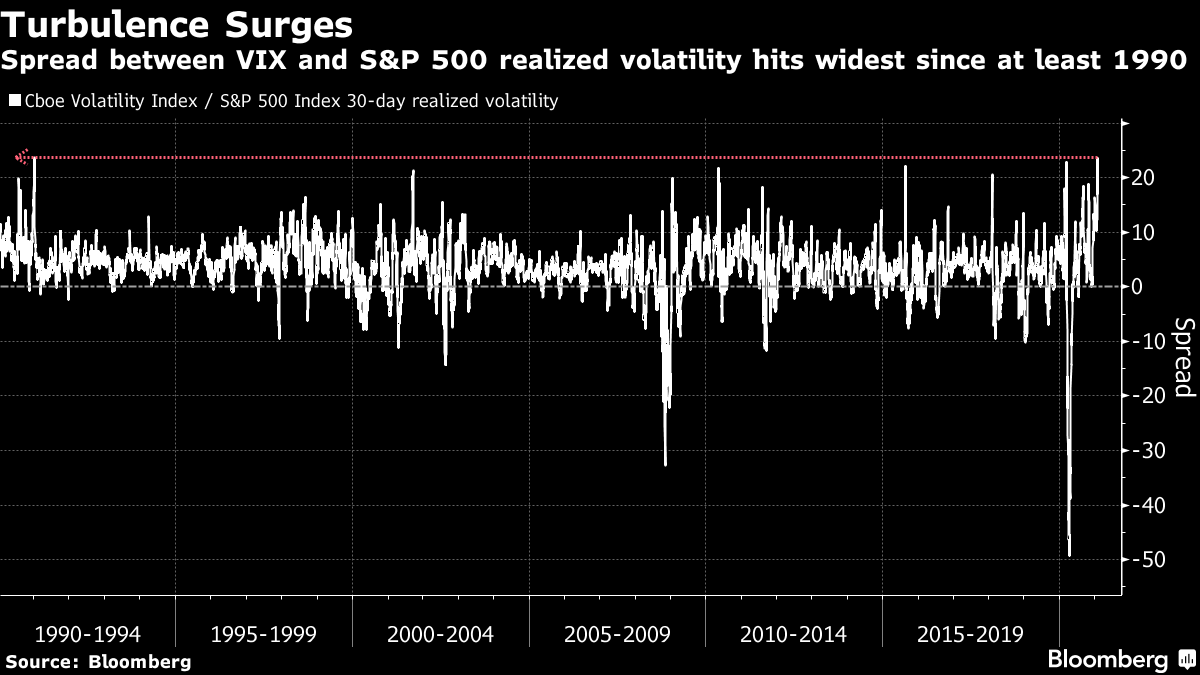 Businesses have never been more confident while consumers were so negative. Trends in sentiment between the groups have never been wider. Source: Pictet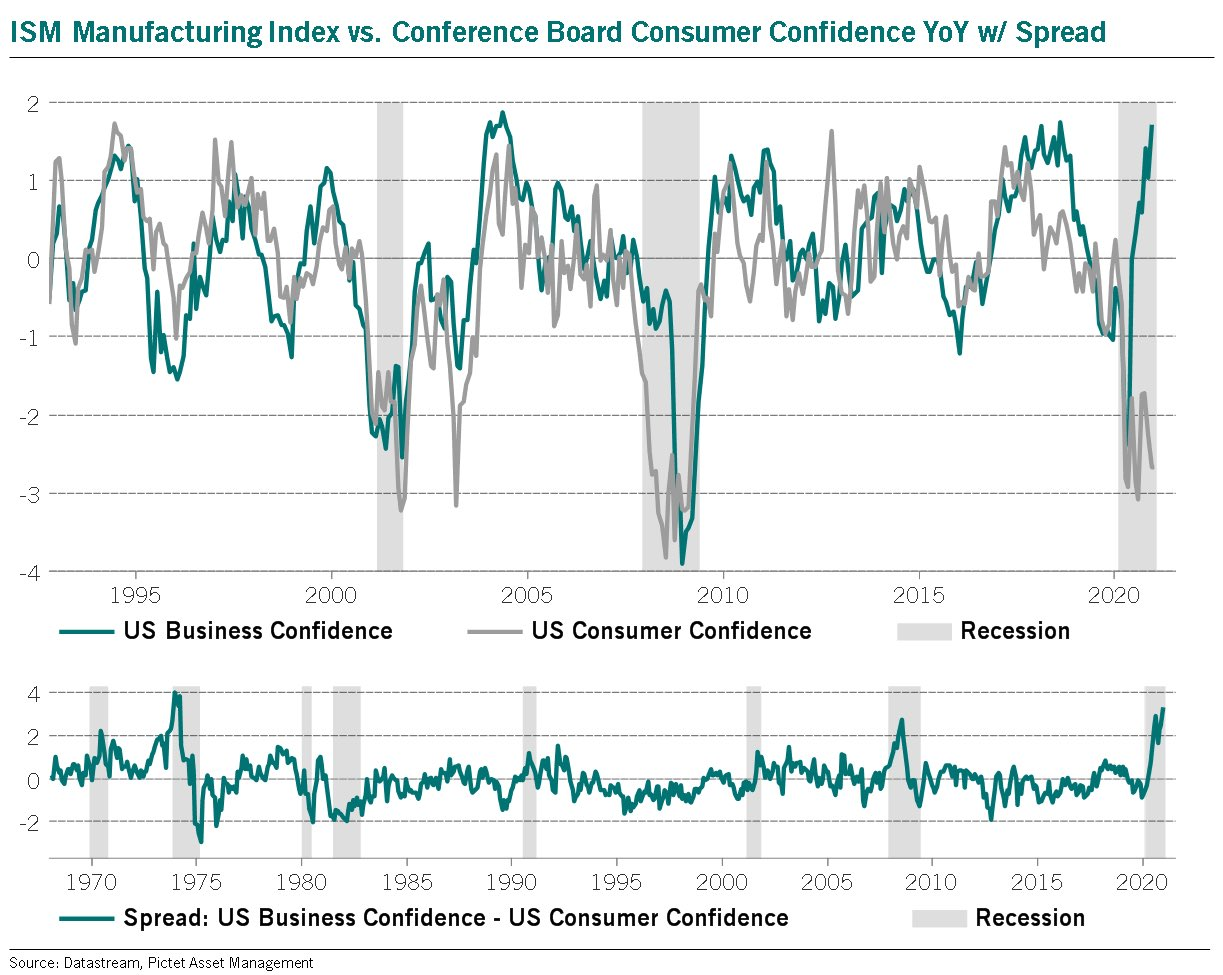 It's easy to say "this will not end well," but this will not end well if history is any guide whatsoever. Source: WSJ, NY Post, Apple Store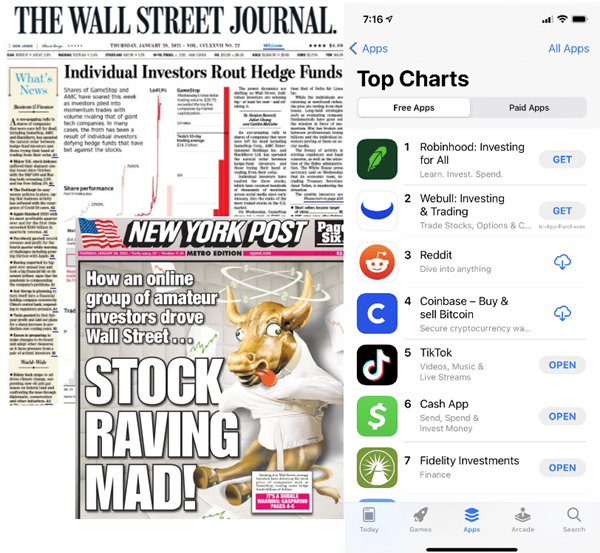 The post titled A historic drop in uptrends was originally published as on SentimenTrader.com on 2021-01-29.
At SentimenTrader.com, our service is not focused on market timing per se, but rather risk management. That may be a distinction without a difference, but it's how we approach the markets. We study signs that suggest it is time to raise or lower market exposure as a function of risk relative to probable reward. It is all about risk-adjusted expectations given existing evidence. Learn more about our service , research, models and indicators.
Follow us on Twitter for up to the minute analysis of market action.
Follow @sentimentrader