A Historic Battle Between Global Stocks and U.S. Industries
---
---
Global markets are picking up, and many of them have been hitting new highs.
Recently, there has been a pickup in absolute and relative trends in many global markets, and several developing markets have been triggering internal breadth thrusts. The momentum has been enough to push 30% or more of global indexes to fresh highs in recent weeks.
This is interesting because the percentage of developed countries at a 52-week high has greatly exceeded the percentage of U.S. industries at a new high, as pointed out by Willie Delwiche. This is a stark change from last summer.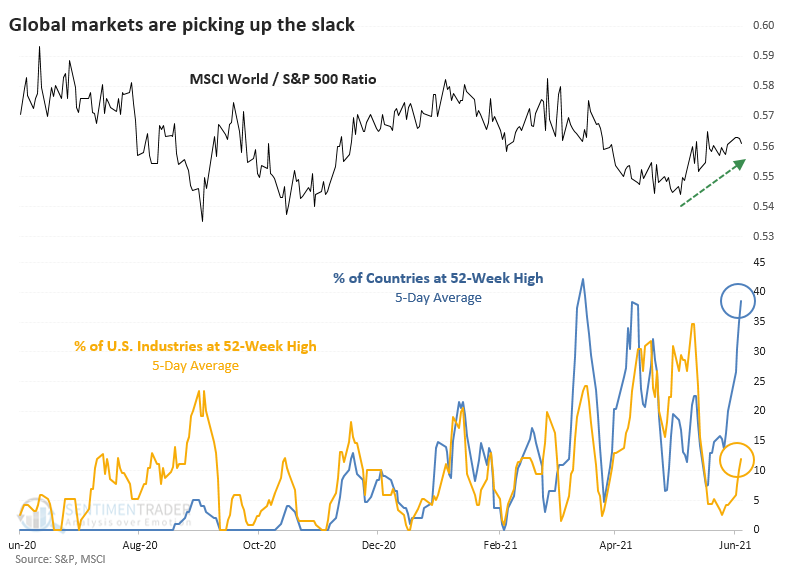 It's not like scenarios like this were a bad sign for the S&P 500 going forward. On the contrary, it usually rose, or if it lost ground, those losses were minor.
This was a better sign for world markets over the medium-term. The MSCI World Index (excluding the United States) showed some short-term weakness but consistently rose over the next 2-6 months.
What else we're looking at
Full returns following times when countries far outpaced industries
How the MSCI World Index did versus the S&P 500 after these signals
Looking at a ratio of equal-weight Discretionary versus Staples stocks as a risk-off signal
What happens when stocks break out from a 10-day range close to a high

---
Stat box



The S&P 500 was stuck within 1% of its record high for 10 days without closing at one. That changed on Thursday. But markets are not logical - when the S&P broke out to the upside from similar ranges, it underperformed over the next month compared to when it broke down out of the range. When markets coil, often the first move is a fake move.
---
Etcetera
Kernel storm. Our corn optix has hit its 3rd highest point in the last decade, with the other two highs peaking early this year.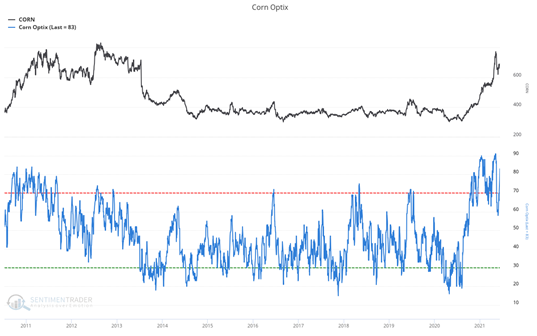 Called it. According to our Backtest Engine, total U.S. put call option volume has dropped below 0.4 for the fifth time in ten years. The few others might have shown some quick weakness in stocks, but all recovered.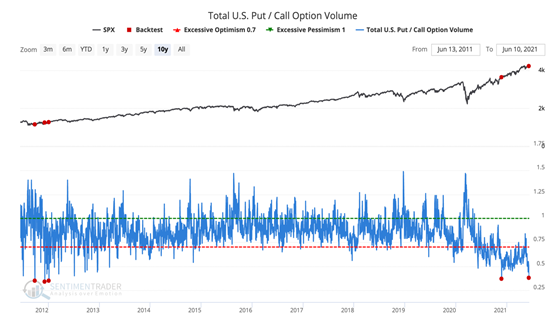 Rally cry. The equity hedging index has fallen below 13 for the fourth time in the past five years, three of them in the last two months. The low put/call ratios we've seen in recent days with help to push this index of hedging activity even lower this week.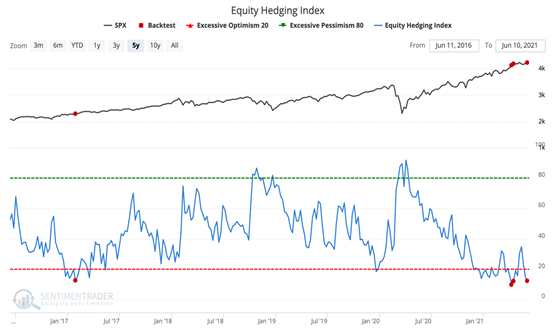 The post titled A Historic Battle Between Global Stocks and U.S. Industries was originally published as on SentimenTrader.com on 2021-06-11.
At SentimenTrader.com, our service is not focused on market timing per se, but rather risk management. That may be a distinction without a difference, but it's how we approach the markets. We study signs that suggest it is time to raise or lower market exposure as a function of risk relative to probable reward. It is all about risk-adjusted expectations given existing evidence. Learn more about our service , research, models and indicators.
Follow us on Twitter for up to the minute analysis of market action.
Follow @sentimentrader