A High HiLo
---
---
This is an abridged version of our recent reports and notes. For immediate access with no obligation, sign up for a 30-day free trial now.
HiLo is high
Over the past week, there have been an increasing number of signs of a "split" market, with many winning and losing stocks. That has caused the HiLo Logic Index to spike for the NYSE and, especially, the Nasdaq.
On both Wednesday and Thursday, the Nasdaq triggered double warnings, which as we saw preceded very poor risk/reward ratios for both the Nasdaq and the S&P 500 over the medium-term. Those warnings are based on earlier work from Norman Fosback, who is credited with introducing the HiLo Logic Index.
It is intended as a way to observe "split" market conditions, it looks for times when there are both a large number of 52-week highs AND 52-week lows among securities on the exchange. When there are a lot of both, the market is severely split between winners and losers, and it tends to be a negative for stocks. When there is a very low number, then the market is heavily one-sided, which tends to be a positive for stocks.
For the NYSE, that indicator is climbing. After any time the NYSE indicator was above 2.5, future returns in the S&P 500 were negative up to three months later according to our Backtest Engine. And it's even more extreme for the Nasdaq.

Over the past 20 years, it has been a mostly effective warning sign.
Steeper and steeper
This week I once again looked at the steepening 10 year - 3 month Treasury yield curve, which formed a golden cross for the first time in more than a year: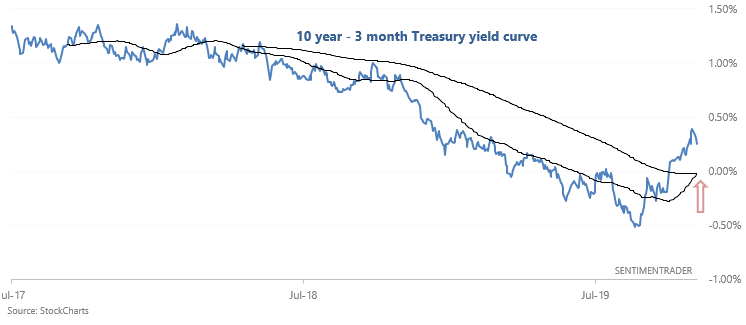 Steepening yield curves aren't great for the stock market, since this often happens during recessions: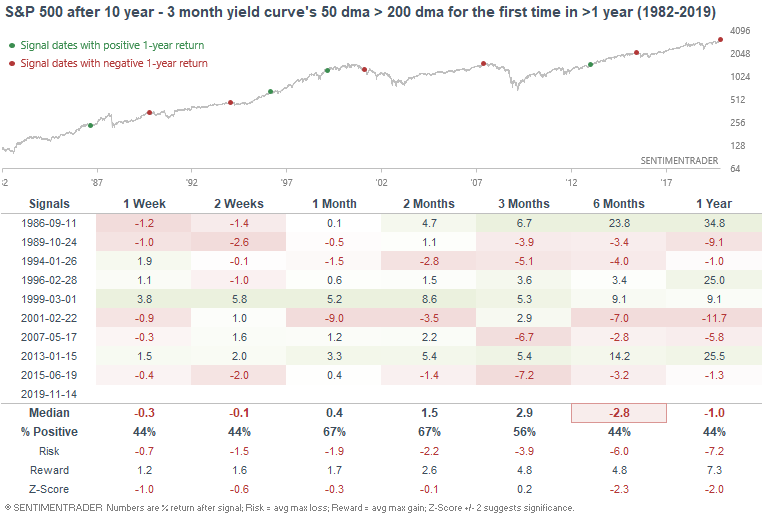 We also looked at:
The entire Treasury yield curve is positive after > 50% of it was inverted
The y/y change in Industrial Production is negative
The S&P 500 has held above its 10-day average for nearly 30 days
It's also up 6 weeks in a row
Chile's stock market has jumped 10% in 2 days
The correlation between gold and emerging market currencies has plunged
Economic surprises are back to negative

Related Posts:
---
Tagged As:
The post titled A High HiLo was originally published as on SentimenTrader.com on 2019-11-18.
At SentimenTrader.com, our service is not focused on market timing per se, but rather risk management. That may be a distinction without a difference, but it's how we approach the markets. We study signs that suggest it is time to raise or lower market exposure as a function of risk relative to probable reward. It is all about risk-adjusted expectations given existing evidence. Learn more about our service , research, models and indicators.
Follow us on Twitter for up to the minute analysis of market action.
Follow @sentimentrader