A High HiLo As Investors Rush Into Cash
---
---
High HiLo
A breadth indicator popularized several decades ago is highlighting a historically split market. To one of the largest degrees in years, there are a lot of winning and a lot of losing stocks at the same time.
Per Investopedia, the HiLo Logic Index:
The high-low index compares stocks that are reaching their 52-week highs with stocks that are hitting their 52-week lows. The high-low index is used by investors and traders to confirm the prevailing market trend of a broad market index, such as the Standard and Poor's 500 index (S&P 500).
Popularized decades ago by Norman Fosback, and highlighted recently by Jay Kaeppel, a high level in the indicator shows a market that contains a lot of winners and losers at the same time. That's usually unsustainable and shows internal conflict.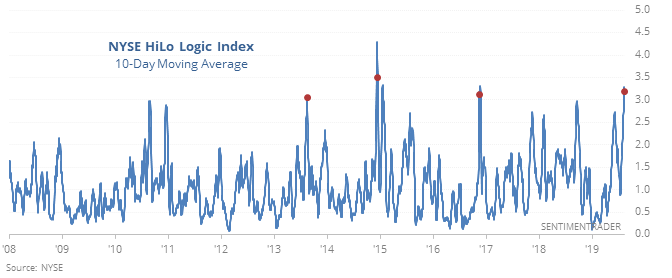 In the context of a long-term uptrend, this is a warning sign. It hasn't been very reliable on the NYSE, but it has on the Nasdaq in recent years.
For more information, two excellent resources are Fosback's Stock Market Logic and Greg Morris's Complete Guide To Market Breadth Indicators.
Cash stampede
Investors have been shoving money into cash instruments lately. The last week showed another large influx, adding to swiftly rising assets over the past four months. This is happening even though stocks are about flat over that time frame.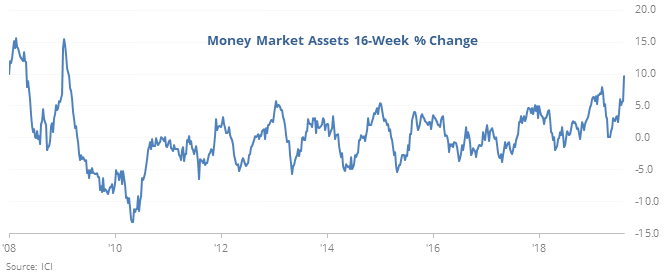 Both bulls and bears would want to make an argument for their side, but empirically since 1984 it has not consistently favored either side.
Moving days
The Financial Times noted that stocks have moved more than 1% intraday for 8 straight days. Make that 9 days now. Coming after a 52-week high, it's happened only 3 times since 1982. It's happened 5 times in August regardless of market environment. All of these instances led to higher prices for the S&P 500 over the next three months, averaging 5.7%.
Extreme(s)
On July 24, 40% more of our indicators were showing optimism than pessimism. Now 10% more are showing pessimism than optimism, the most since early January. This isn't quite extreme, but over the past decade the S&P has shown a 3-month return of 5.2% and 80% win rate when the spread was this wide.
This post was an abridged version of our previous day's Daily Report. For full access, sign up for a 30-day free trial now.

Related Posts:
---
Tagged As:
The post titled A High HiLo As Investors Rush Into Cash was originally published as on SentimenTrader.com on 2019-08-13.
At SentimenTrader.com, our service is not focused on market timing per se, but rather risk management. That may be a distinction without a difference, but it's how we approach the markets. We study signs that suggest it is time to raise or lower market exposure as a function of risk relative to probable reward. It is all about risk-adjusted expectations given existing evidence. Learn more about our service , research, models and indicators.
Follow us on Twitter for up to the minute analysis of market action.
Follow @sentimentrader