A "Good" Correction As Silver Specs Give Up
---
---
This is an abridged version of our Daily Report.
Good vs bad corrections
In these first two weeks following the Dow's drop into a correction, it has followed the path of many "good" corrections. Those are times when the Dow fell 10% from a high, then no more than a further 7% during the next year.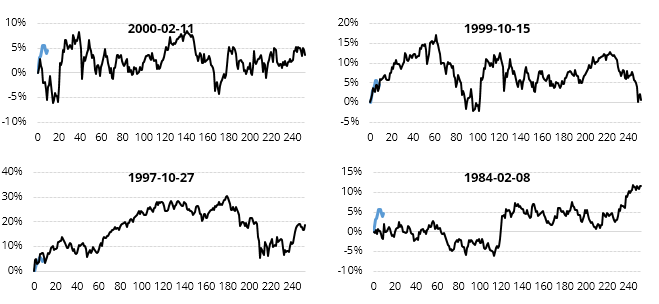 "Bad" corrections usually saw immediate further selling pressure and lost an average of another -16% at some point.
Silver speculators give up
Large speculative traders in silver are holding almost as much of the open interest in short as long contracts.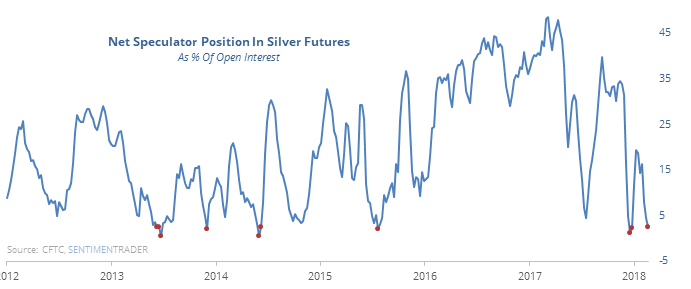 That's among their lowest exposures to the metal in 15 years. Even during silver's long decline in recent years, such low exposure led to rallies over the next 3 months.
Sort of a thrust
Up Volume on the NYSE has picked up over the past 10 days, cycling from deeply oversold to overbought. Similar quick reversals mostly led to gains and a decent risk/reward ratio.
The latest Commitments of Traders report was released, covering positions through Tuesday
In stocks, "smart money" hedgers were holding $15 billion in index short positions, nearly the lowest in two years and down from a record $60 billion before the correction.
For access to the full report, indicators, charts, screens, and Backtest Engine, log in or sign up for a free 30-day trial today.
Related Posts:
---
Tagged As:
The post titled A "Good" Correction As Silver Specs Give Up was originally published as on SentimenTrader.com on 2018-02-26.
At SentimenTrader.com, our service is not focused on market timing per se, but rather risk management. That may be a distinction without a difference, but it's how we approach the markets. We study signs that suggest it is time to raise or lower market exposure as a function of risk relative to probable reward. It is all about risk-adjusted expectations given existing evidence. Learn more about our service , research, models and indicators.
Follow us on Twitter for up to the minute analysis of market action.
Follow @sentimentrader