A day when everybody went in
---
---
Everybody in
Earlier this month, we'd never seen selling intensity so heavy. In many respects, it was historic. One of those respects was the tendency to see more than half of the securities on the NYSE trade on a downtick at the same time.
At the open on Tuesday, we finally saw some potential of a switch in sentiment (or computer algorithms, at least). More than 1,800 securities traded on an uptick, a huge surge from recent sessions. That's more than 60% of the issues traded on that exchange.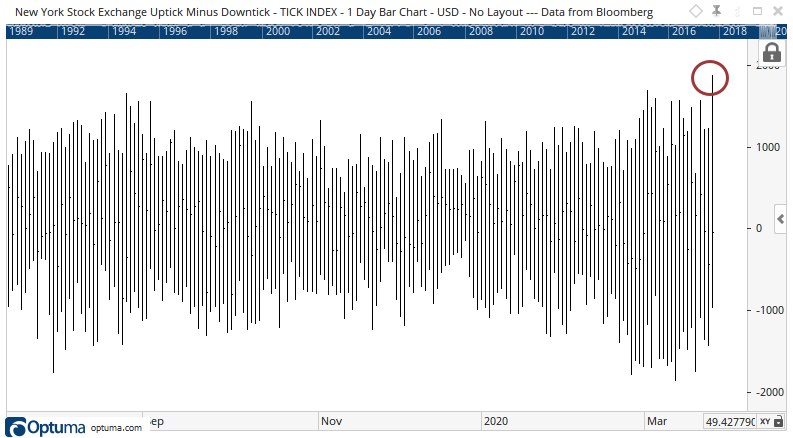 A month after every one of the dates when this happened following a 52-week low, the S&P 500 showed a positive return. A few in 2008 had some extreme volatility, but showed at least a modest gain over the next month. A couple from July that year then quickly failed.
The most distressing part of this is that it also triggered four other times just this month, and every one of those have shown a loss over the next week. That pattern needs to change.
Other signs of a surge
By the close on Tuesday, 92% of NYSE issues went up on one of the biggest 1 day rallies in market history.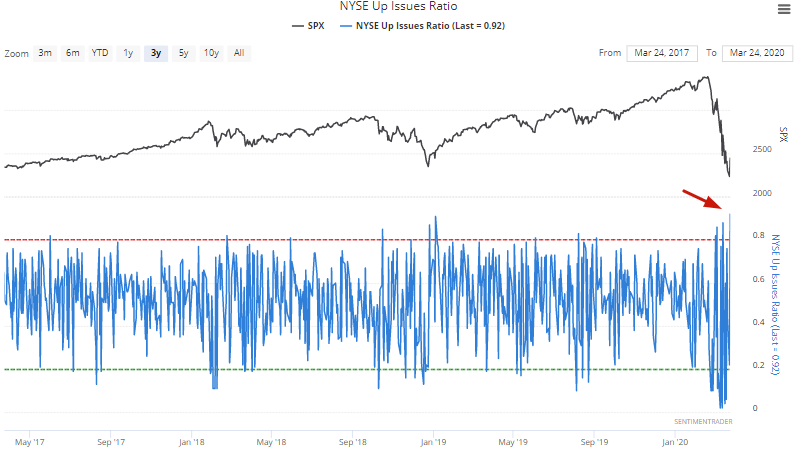 When this happened while the S&P was more than -20% below a 1 year high, the S&P had a very strong tendency to rally over the next few months and year. While this didn't always mark the exact bottom of a bear market, by then the worst of the selloff was over.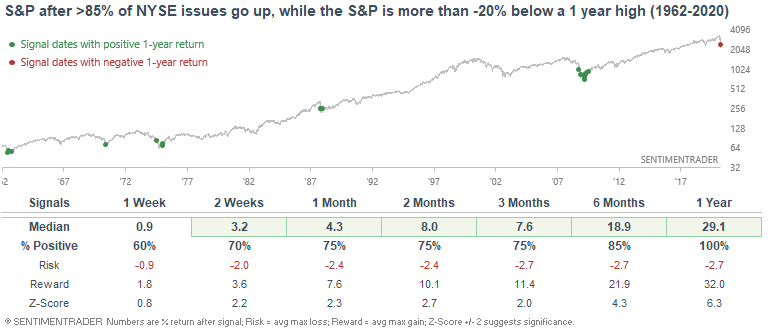 This is an abridged version of our recent reports and notes. For immediate access with no obligation, sign up for a 30-day free trial now.
We also looked at:
What happens after a quick switch from a low to multi-day high
Up volume on Tuesday was overwhelming
The Dow went from a multi-year low to largest gain in multiple years
Price-to-book values are getting compelling around the world
World stocks have triggered a death cross
It's been a long time since stocks enjoyed back to back gains
This has been one of history's biggest clusters of 2% swings

The post titled A day when everybody went in was originally published as on SentimenTrader.com on 2020-03-25.
At SentimenTrader.com, our service is not focused on market timing per se, but rather risk management. That may be a distinction without a difference, but it's how we approach the markets. We study signs that suggest it is time to raise or lower market exposure as a function of risk relative to probable reward. It is all about risk-adjusted expectations given existing evidence. Learn more about our service , research, models and indicators.
Follow us on Twitter for up to the minute analysis of market action.
Follow @sentimentrader