A buying binge of historic proportions
---
---
Buying binge
Barring a collapse into the close, we were on track for back-to-back 90% up volume days on the NYSE on Monday and Tuesday. With stocks backing off in the final half-hour due to political posturing, up volume made up "only" a little more than 80% of total volume.
Even so, when there are back-to-back days with heavily lopsided volume flowing into advancing stocks, it has indicated a long-term shift in sentiment when stocks had been far off their highs at the time.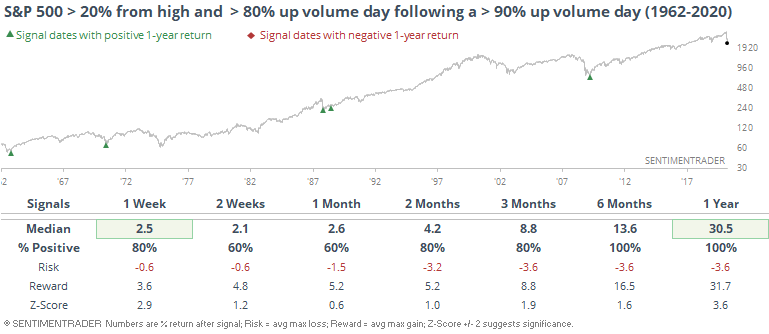 So far, buyers are doing what they need to in order to preserve the idea that we've seen an important inflection point.
Global buy signals
Global markets crashed over the past few weeks and are now starting to turn upwards. This sort of price action usually witnesses a surge in the number of stocks MACD buy signal.
MACD is a very popular indicator which has a spotty track record - sometimes it works and sometimes it doesn't. We did an in-depth video about it, which you can see here.
Within the Euro Stoxx 50, an extremely large % of stocks have now triggered a MACD buy signal: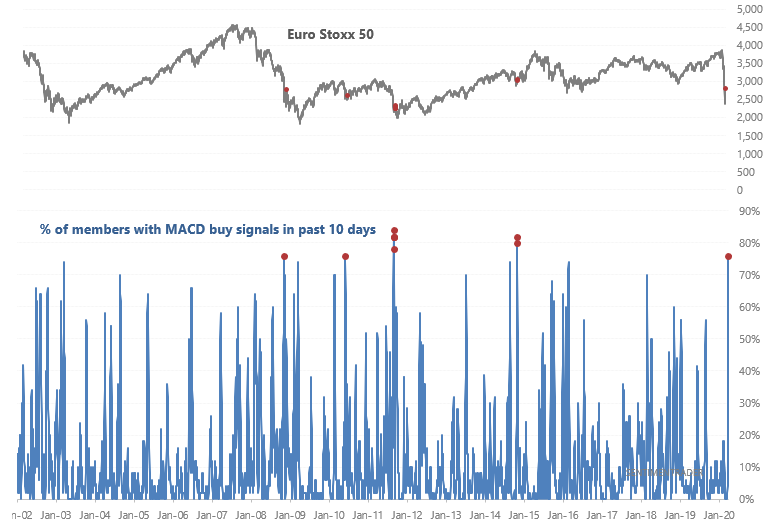 There have only been a few other cases with so many Euro Stoxx 50 MACD buy signals. Returns over the next few weeks were volatile, although the Euro Stoxx 50 usually rallied over the next year: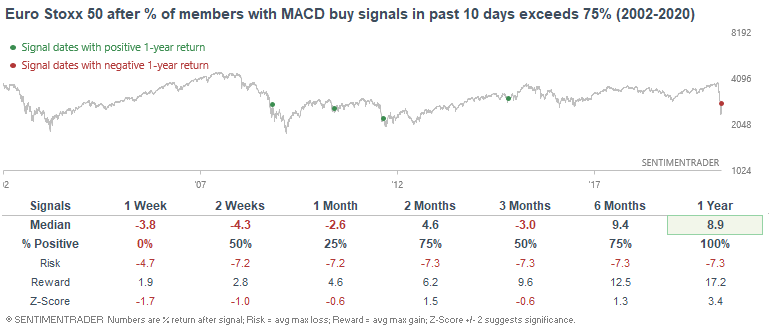 This is an abridged version of our recent reports and notes. For immediate access with no obligation, sign up for a 30-day free trial now.
We also looked at:
The HiLo Logic Index is giving a buy signal
Breadth indicators are coming back to normal
The dollar is showing signs of a reversal
Newsletter writers have given up

Related Posts:
---
Tagged As:
The post titled A buying binge of historic proportions was originally published as on SentimenTrader.com on 2020-03-26.
At SentimenTrader.com, our service is not focused on market timing per se, but rather risk management. That may be a distinction without a difference, but it's how we approach the markets. We study signs that suggest it is time to raise or lower market exposure as a function of risk relative to probable reward. It is all about risk-adjusted expectations given existing evidence. Learn more about our service , research, models and indicators.
Follow us on Twitter for up to the minute analysis of market action.
Follow @sentimentrader