A bull market recovery as yields plunge
---
---
Bull market recovery
Context is everything.
The decline to a 90-day low last week, then huge gain on Monday, all came while the S&P 500's 200-day average was still rising.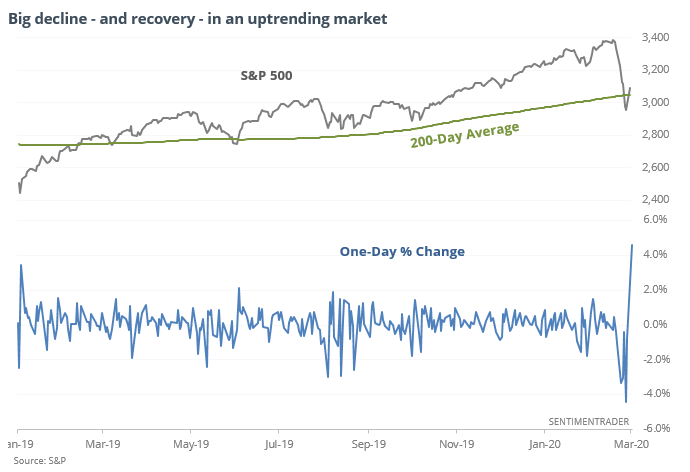 This has made a big difference on forward returns. Bear markets often seen periods of extremely high volatility, so swings like we saw in recent days are not unusual. When the 200-day average on the S&P 500 is rising, though, swings like this are much less common, and have tended to precede much better returns, especially over the next 6 months.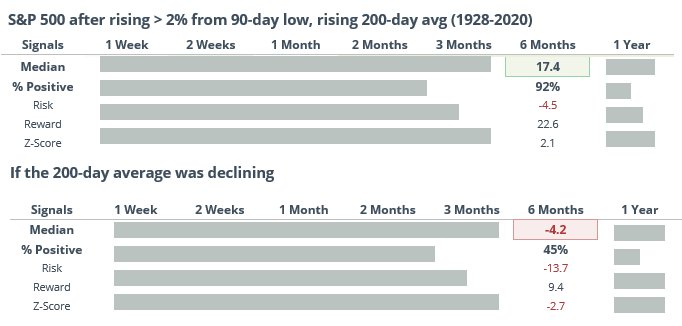 Flight to safe haven
Bonds surged while stocks crashed last week. And despite yesterday's monster rally, bond prices continue to climb (while yields continue to fall). The 10 year Treasury yield's 14 day RSI has been pushed to one of the lowest levels ever: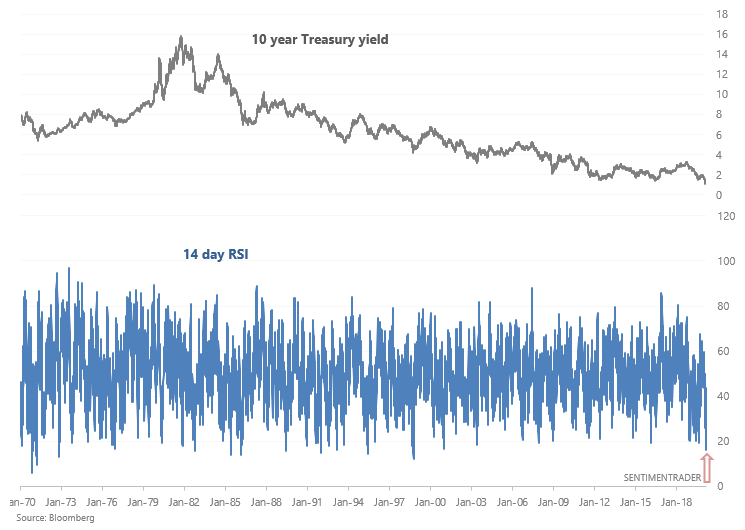 When the 10 year Treasury yield was extremely oversold in the past (bonds were extremely overbought), the 10 year yield had a slight tendency to rise in the months ahead: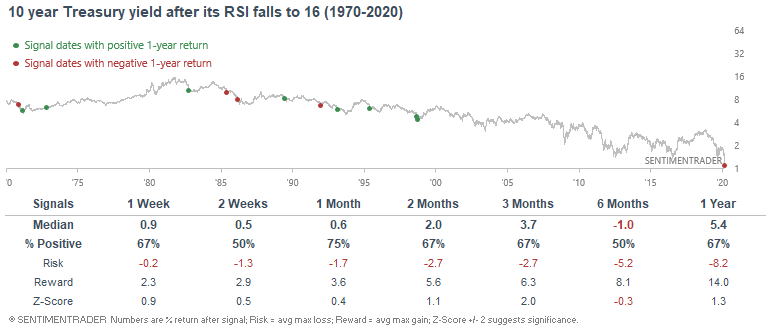 Stocks had a strong tendency to rally after these signals.
This is an abridged version of our recent reports and notes. For immediate access with no obligation, sign up for a 30-day free trial now.
We also looked at:
The McClellan Summation Indexes are ending long runs above 0
What it means when financials see washout breadth like last week
Our Intermediate-term Optimism Index is very low
Smart Money / Dumb Money Confidence has cycled to a new extreme
The put/call ratio is spiking
What happens after breadth swings wildly

The post titled A bull market recovery as yields plunge was originally published as on SentimenTrader.com on 2020-03-03.
At SentimenTrader.com, our service is not focused on market timing per se, but rather risk management. That may be a distinction without a difference, but it's how we approach the markets. We study signs that suggest it is time to raise or lower market exposure as a function of risk relative to probable reward. It is all about risk-adjusted expectations given existing evidence. Learn more about our service , research, models and indicators.
Follow us on Twitter for up to the minute analysis of market action.
Follow @sentimentrader