A Big Jump In Big Money Bulls
---
---
This is an abridged version of our recent reports and notes. For immediate access with no obligation, sign up for a 30-day free trial now.
Big money gets bullish
The latest survey from Bank of America Merrill Lynch that polls large money managers with nearly $700 billion under management showed a large jump in optimism over the past month. Their outlook on U.S. stocks jumped to one of the largest degrees in 12 years.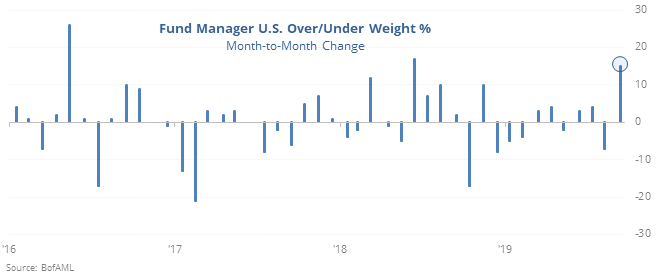 We've seen in years past that big money managers, such as polled by Barron's or other organizations, do not really deserve a "smart money" moniker. They're not consistently a contrary indicator, but that's the case more often than not. And big jumps in optimism in this survey have preceded modest weakness in the weeks ahead.
Momentum renewal
Several major indexes, both domestic and overseas, are seeing renewed momentum in the breadth of rising vs falling stocks. Their McClellan Summation Indexes are rising quickly and have exceeded the highest levels they'd reached over the past 1-4 months, including indexes like the Shanghai Composite.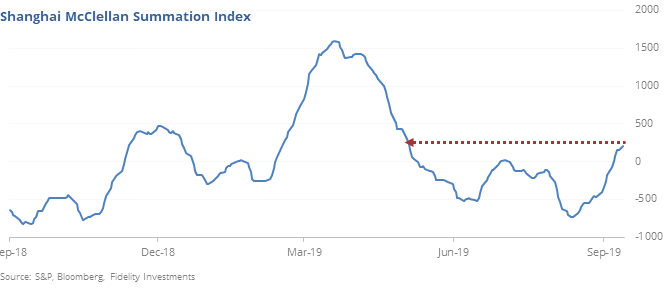 As we see so often, for U.S. indexes, it's been mostly a good sign after maybe some short-term relief of overbought conditions. Overseas indexes have struggled much more after readings like this. Both the Shanghai and Mexbol tended to struggle after bouts of renewed momentum.
Volume flow
The improved breadth can also be seen in the NYSE Up Volume Ratio, where the 15-day average has cycled from below 40% to above 63%. As Troy notes, that preceded gains in the S&P 500 over the next 6 months 88% of the time (15 out of 17 signals since 1962).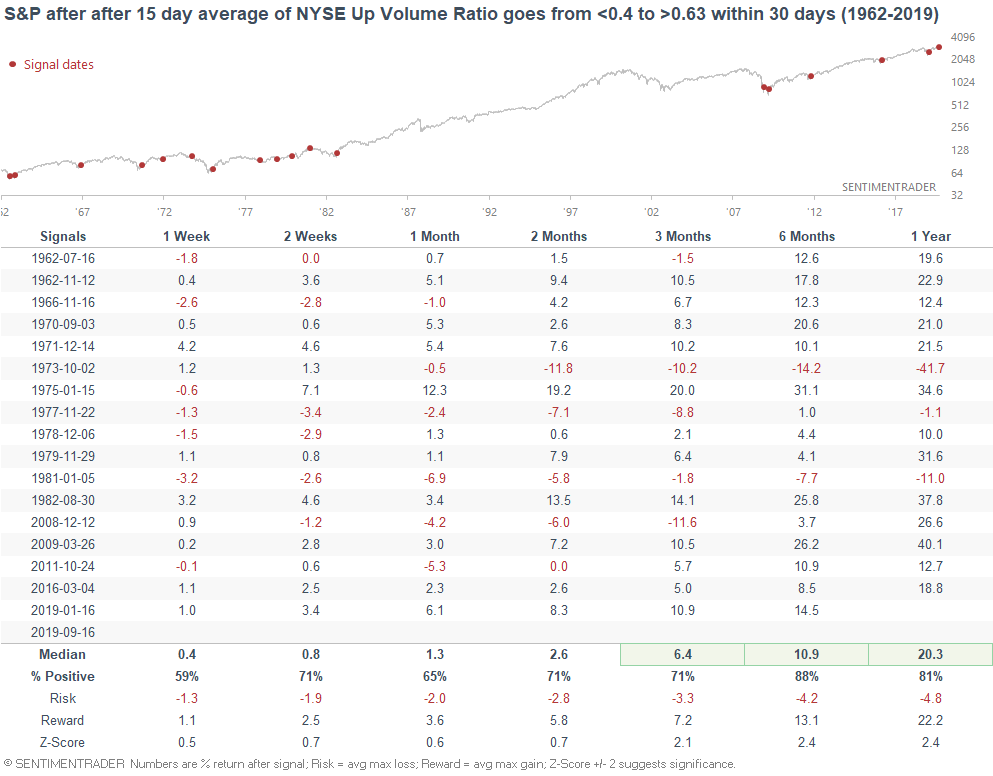 Too many speculators?
One potential negative is that options traders have seemingly become much more optimistic, with the De-Trended Put/Call Ratio falling heavily in recent weeks. That has, indeed, usually preceded negative returns, but when the S&P was within 10% of its peak at the time, it led to gains. Context is important. Plus, the smallest of options traders are still buying quite a few protective put options. This much put buying when stocks were in an uptrend led to gains in the S&P 41 out of 48 weeks according to the Backtest Engine.

Related Posts:
---
Tagged As:
The post titled A Big Jump In Big Money Bulls was originally published as on SentimenTrader.com on 2019-09-18.
At SentimenTrader.com, our service is not focused on market timing per se, but rather risk management. That may be a distinction without a difference, but it's how we approach the markets. We study signs that suggest it is time to raise or lower market exposure as a function of risk relative to probable reward. It is all about risk-adjusted expectations given existing evidence. Learn more about our service , research, models and indicators.
Follow us on Twitter for up to the minute analysis of market action.
Follow @sentimentrader