A Big Jobs Miss As Highs Surge
---
---
Jobs

We saw on Thursday that a big miss in the ADP report possibly meant a big miss in the Nonfarm Payroll report today, and if it dove to a 5-year low, would be a bad sign for stocks. The report missed, but wasn't bad enough to trigger the 5-year low. So at least there's that.

But the report did miss expectations by 100k, one of the larger oops in the past 20 years. It hasn't had a consistently negative bias for stocks, though.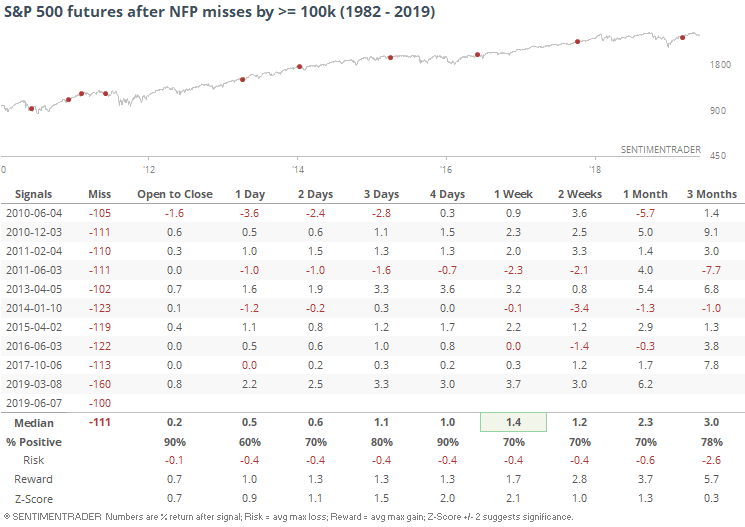 Breadth Review

There was a further surge in stocks within the S&P 500 that hit 52-week highs on Thursday. More than 15% of stocks did so, the first time in a year and a half.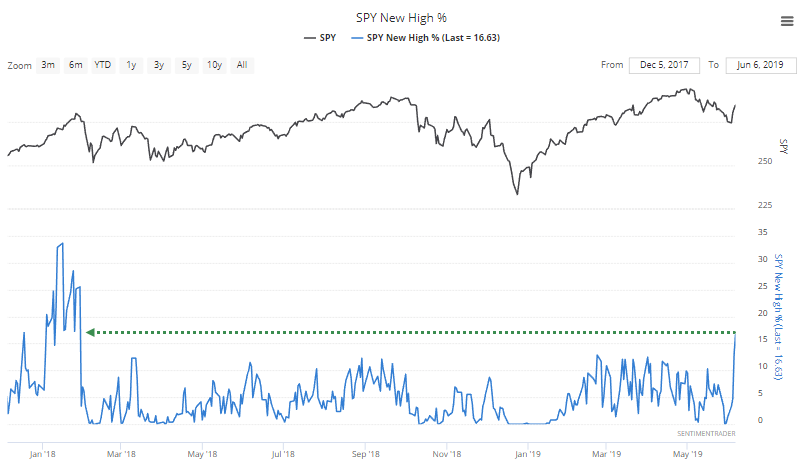 There have only been 5 other times since 1990 when it took a year or more to achieve this many new highs within the index. If we look at the risk/reward table, only that failure in 2002 shows any appreciable risk (maximum loss) at any point even up to a year later.
Negative Energy

Sentiment on some of the energy contracts is nearing or at pessimistic levels. These markets tend to get "stuck" for weeks or months at a time, so it's less reliable than other markets.

For heating oil, optimism is at such a low point that it coincided with rallies in recent years.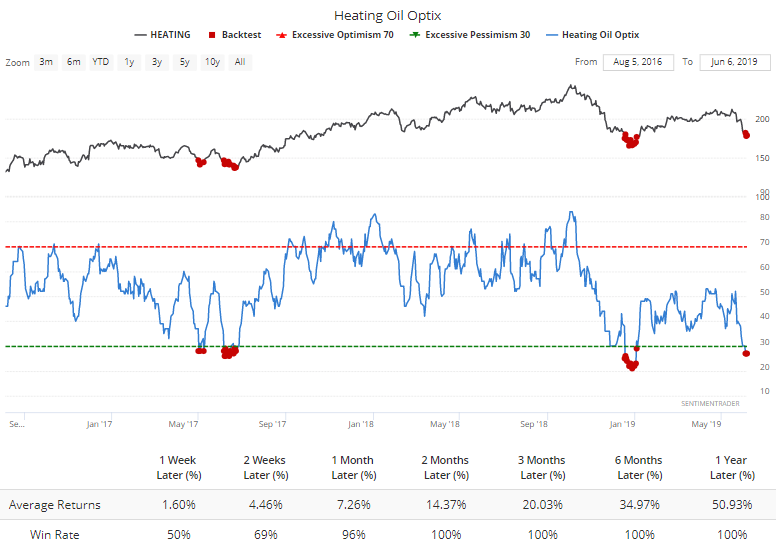 But long-term it's been quite a bit less reliable.
This post was an abridged version of our previous day's Daily Report. For full access, sign up for a 30-day free trial now.

Related Posts:
---
Tagged As:
The post titled A Big Jobs Miss As Highs Surge was originally published as on SentimenTrader.com on 2019-06-10.
At SentimenTrader.com, our service is not focused on market timing per se, but rather risk management. That may be a distinction without a difference, but it's how we approach the markets. We study signs that suggest it is time to raise or lower market exposure as a function of risk relative to probable reward. It is all about risk-adjusted expectations given existing evidence. Learn more about our service , research, models and indicators.
Follow us on Twitter for up to the minute analysis of market action.
Follow @sentimentrader